Everybody loves candy, and having a candy buffet at your event is a great way to supplement your dessert offerings as well as give guests a fun treat to take home.  You can put out your candy display during dessert, or set it up near the exit towards the end of your party for guests to take as they are leaving.  A candy table can also be a fantastic decor element, as you can coordinate your candy to the event's theme and colors.
If you are throwing a Hollywood red-carpet, Broadway, or New York City "Big Apple"-themed party, your favorite sports team's color is red, it's Valentine's Day, or you are simply using the color red in your decor, offer your guests a beautiful and festive red candy buffet: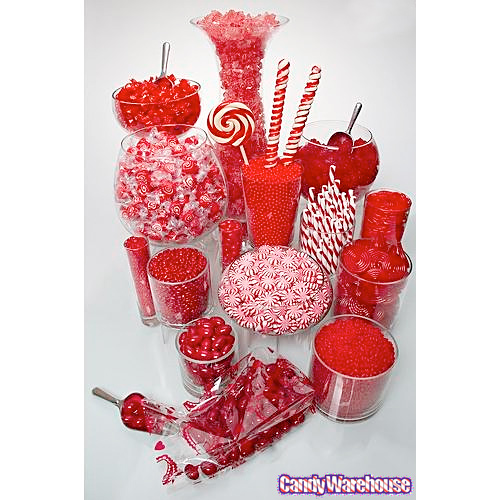 You can save a lot of money if you put your bar or bat mitzvah candy buffet together yourself.  Caterers charge thousands of dollars to build a candy buffet to complement your event's decor; however, you can create your own extravagant and beautiful candy display for much less.
Start by buying your candy online from Candy Warehouse.  They sell bulk candy directly to the consumer, saving you hundreds of dollars in candy costs.
Candy Warehouse's site is easy to use, as they categorize candy by color, season, occasion, and holiday. You will want to order approximately 1/4 lb to 1/2 lb of candy per child, or per guest if the candy buffet will be available for the adults also. Whether to average up or down within those guidelines depends on how full you would like your display to look, and how much candy you anticipate you guests taking during and after the party.  If you are throwing a smaller party, err on the side of caution and order closer to 1/2 lb per person; you don't want to have a skimpy candy display.  And remember, you need several pounds of each candy to adequately fill a canister or serving bowl.  For most candy items, a 5 lb bag will fill a one-gallon container.
You also want to vary the sizes, shapes and flavors of your candy; offer small candies, larger candies, some tall lollipops or rock candy sticks for a fun presentation, and some wrapped candy. Also make sure you have sweet candy, some sour choices, at least one chocolate offering and perhaps some licorice or gumballs for variety.
As you can see in the Candy Warehouse candy buffet below, you don't need to order such large quantities for items like unicorn pops, ribbon candy and rock candy. Those types of bigger upright candies are generally used to add interest to your display and take up much more room in canisters than smaller bulk items. You can also just pop a few in the top of a container of other candies for fun.
Candy Warehouse has a tutorial with guidelines for building a candy buffet and they give a timetable for ordering and instructions for candy storage prior to your event.

Step 1: The Candy
The candies listed below are popular choices to buy in bulk and look great in a buffet. Pick between 6 – 12 different varieties to create your display:
[product_category category="red-candy" per_page="24″ columns="4″ orderby="date" order="desc"]
Step 2: The Canisters
[product_category category="canisters" per_page="24″ columns="4″ orderby="date" order="desc"]
Step 3: Scoopers and Tongs
[product_category category="red-buffet-scoops-tongs" per_page="12″ columns="4″ orderby="date" order="desc"]
Step 4: Bags and Containers
[product_category category="red-buffet-bags" per_page="24″ columns="4″ orderby="date" order="desc"]
Step 5: Labels
Put labels with your logo, monogram or the date of your event on your treat bags or boxes.
[product_category category="Labels" per_page="12″ columns="4″ orderby="date" order="desc"]
For more ideas and inspiration for New York City and "red carpet" themed events, check out our posts We Love New York-Themed Parties, Be The Star of Your Broadway-Themed Mitzvah Party, and Party Like a Hollywood Star!