Whether you live there, have relatives there, or just love to visit, New York City is a great theme for Bar and Bat Mitzvah parties. Like the city itself, there are so many possibilities for food, decor and entertainment!
Give your guests a heads up of both your date and theme with these New York City subway-inspired save-the-date magnets from eCrater. Put your date in the subway line circles: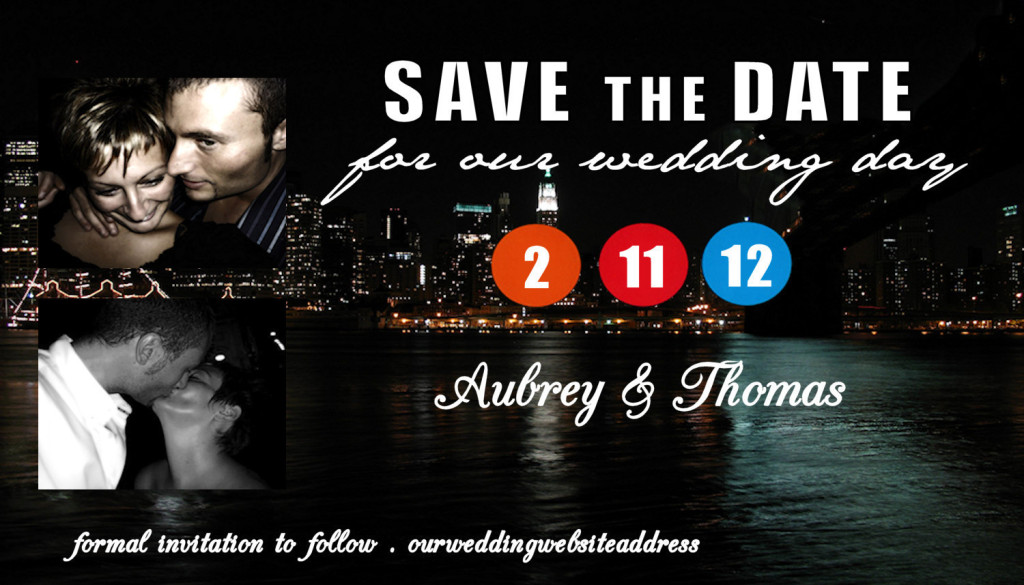 Here is a save-the-date card with the city skyline, available on Etsy: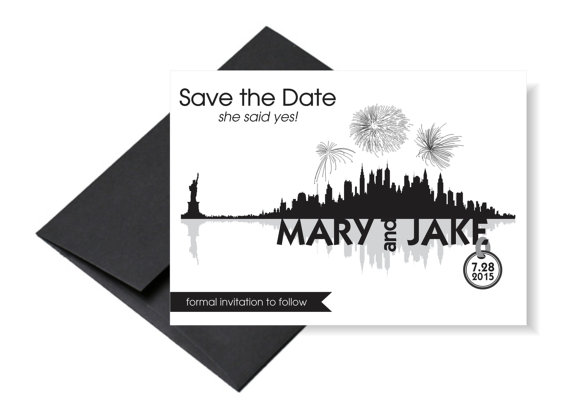 These invitations from Zazzle can be customized with either a New York City skyline or the Brooklyn Bridge: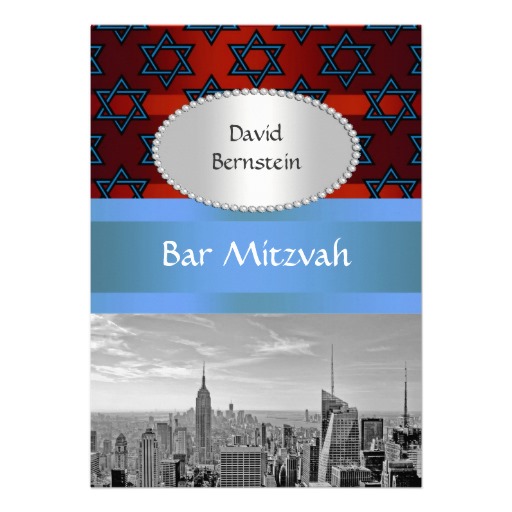 And this invitation from Digby Rose is available with a New York City skyline: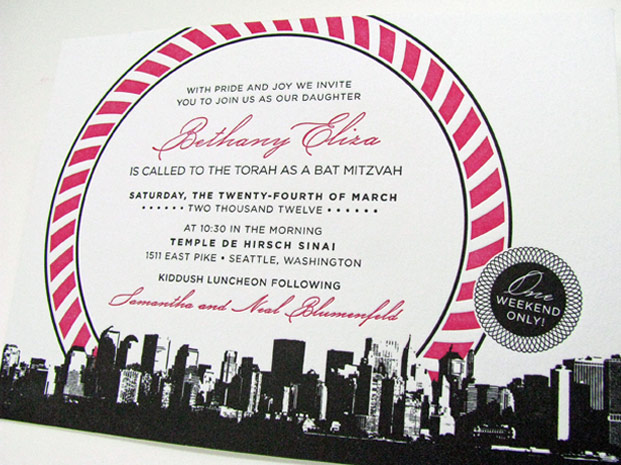 Make sure to use custom stamps like these from Zazzle to coordinate with your invitations: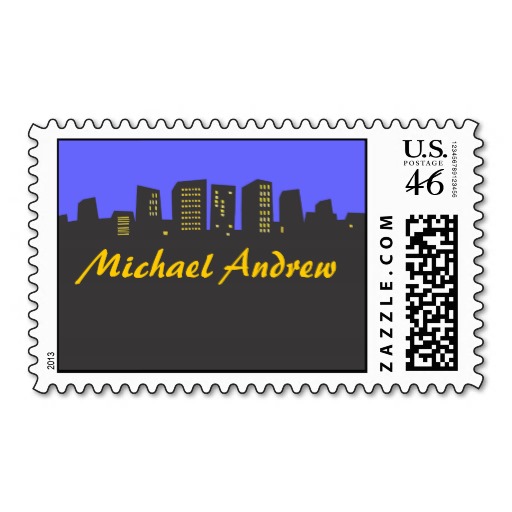 If you have out-of-town guests, leave these welcome baskets featured on B. Lovely Events at their hotel. Just fill "I Love NY" caps with different "apple" or New York-inspired products, or other treats.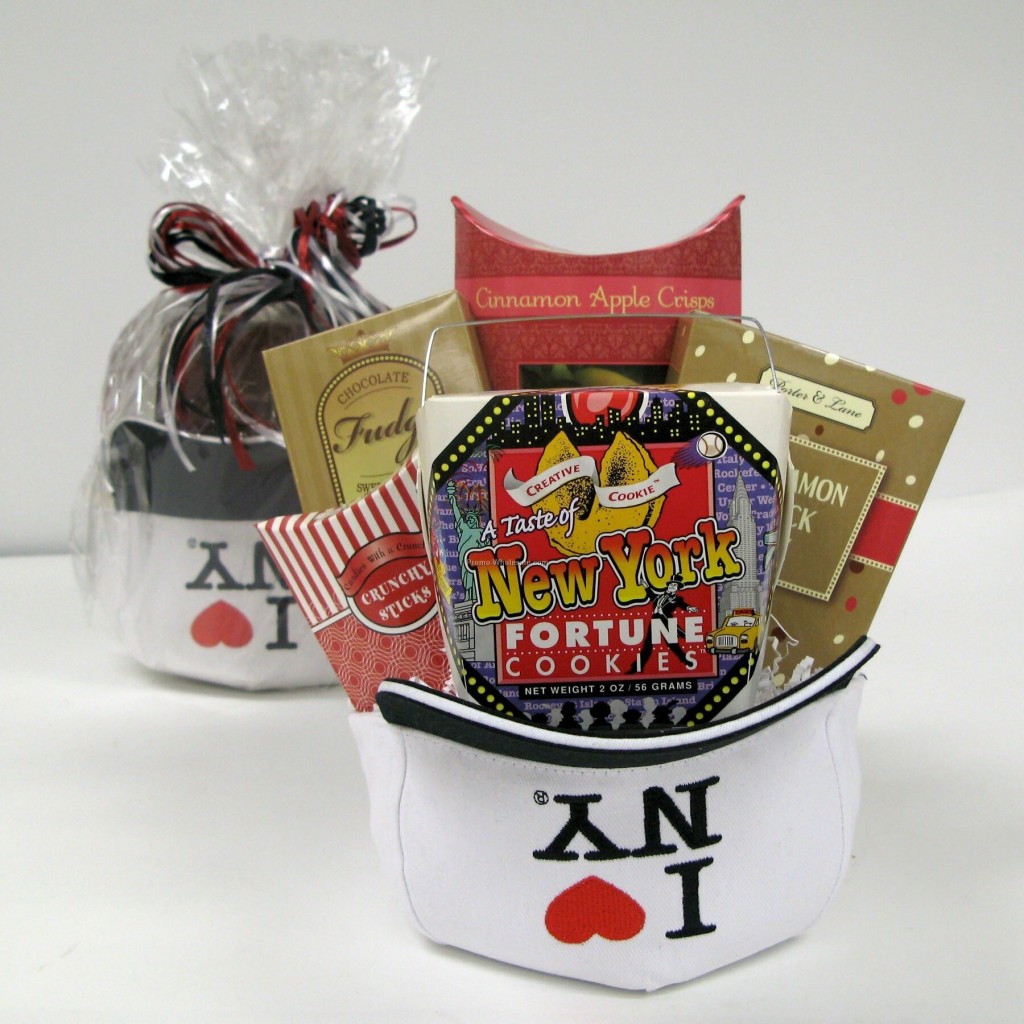 The fortune cookies are a great touch! You can order individual fortune cookie packages
online: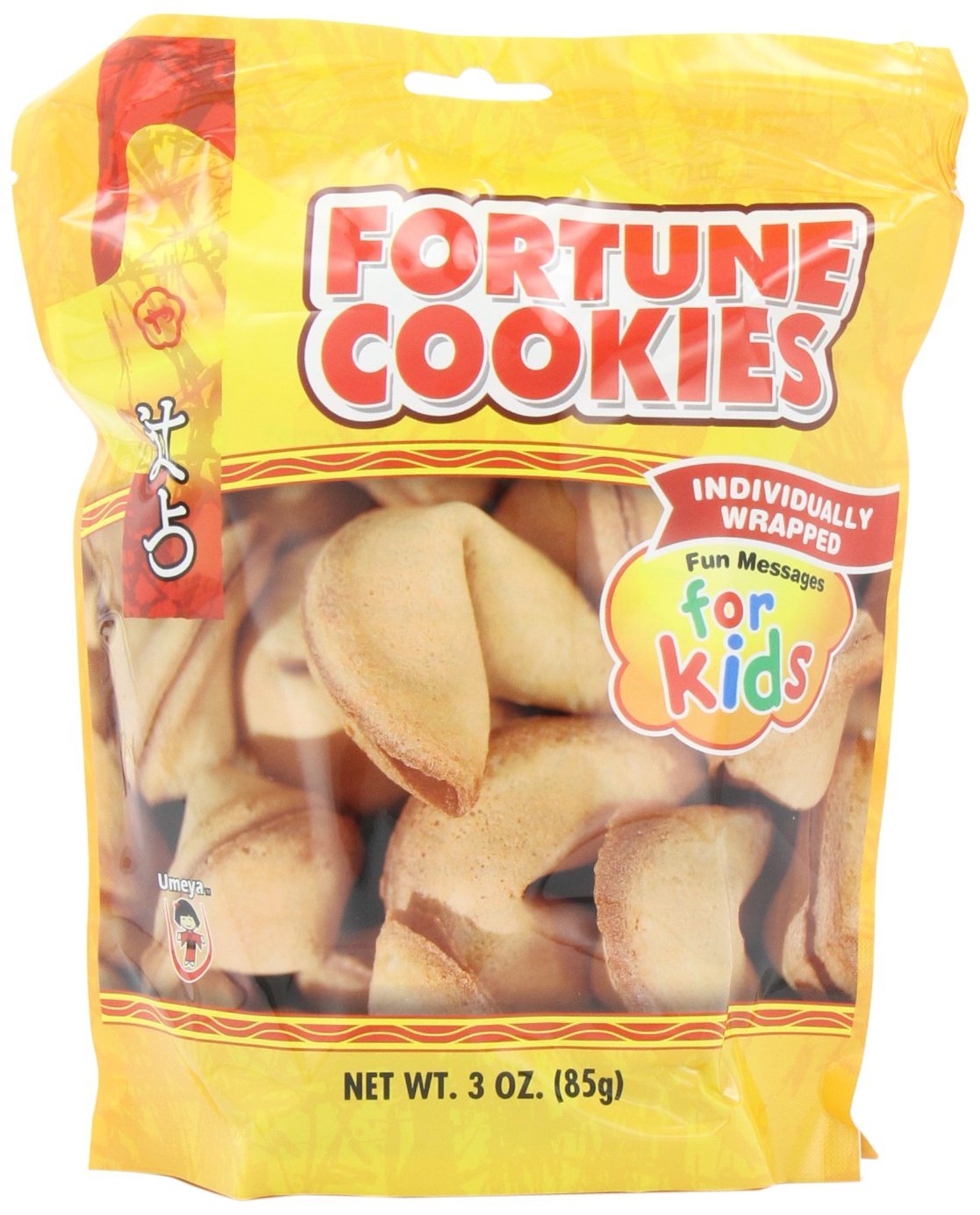 Check out this fabulous party entrance from Party411: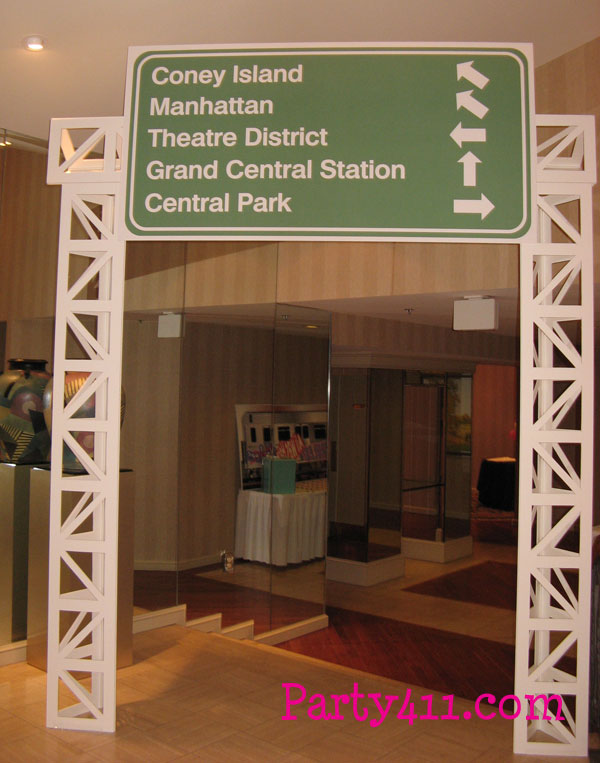 And this great subway sign from The Prop Factory: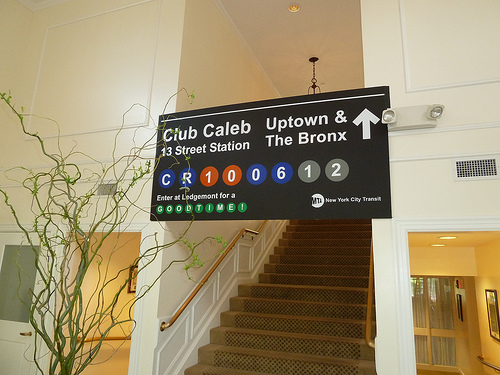 Use these adorable mini taxis from Favors and Flowers to hold your escort cards: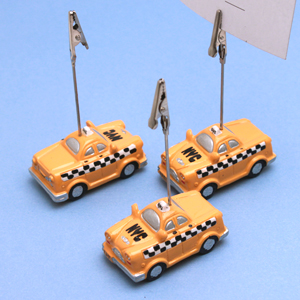 At this event featured on Party411, the escort cards were set up on taxis in front of a skyline logo: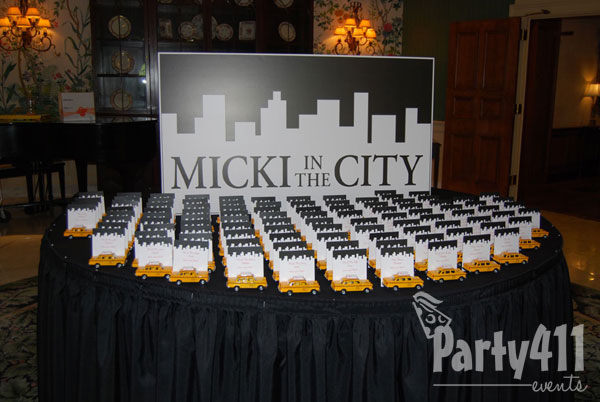 Or use "metrocards" as escort cards, as seen on Koru Wedding Style: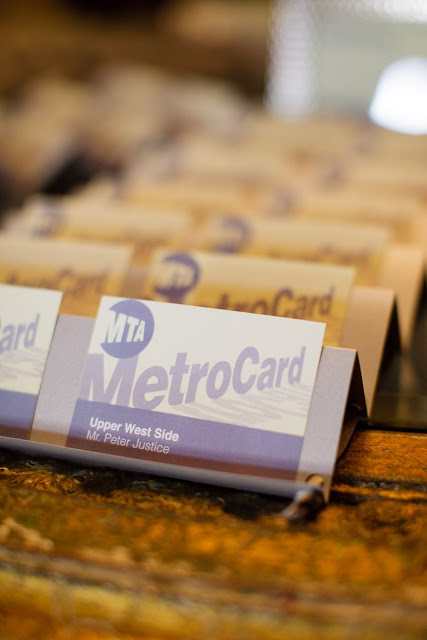 Place your escort cards in front of a NYC subway mural like this one from Party411: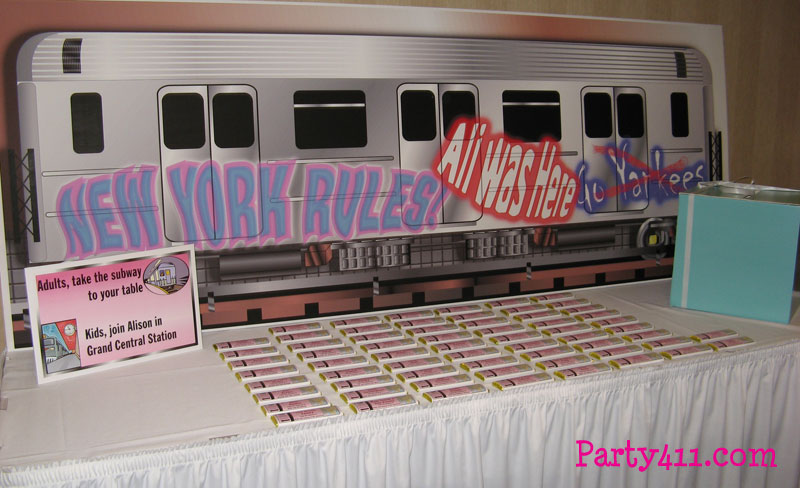 Name your tables after different New York City landmarks or neighborhoods. There are so many choices – "Times Square," "the Village," "Little Italy," "Wall Street," and "Chinatown" are different neighborhoods you can use, while "Statue of Liberty," "Empire State Building," "Brooklyn Bridge," and "Yankee Stadium" are well-known landmarks.
This centerpiece was created by Event of a Lifetime: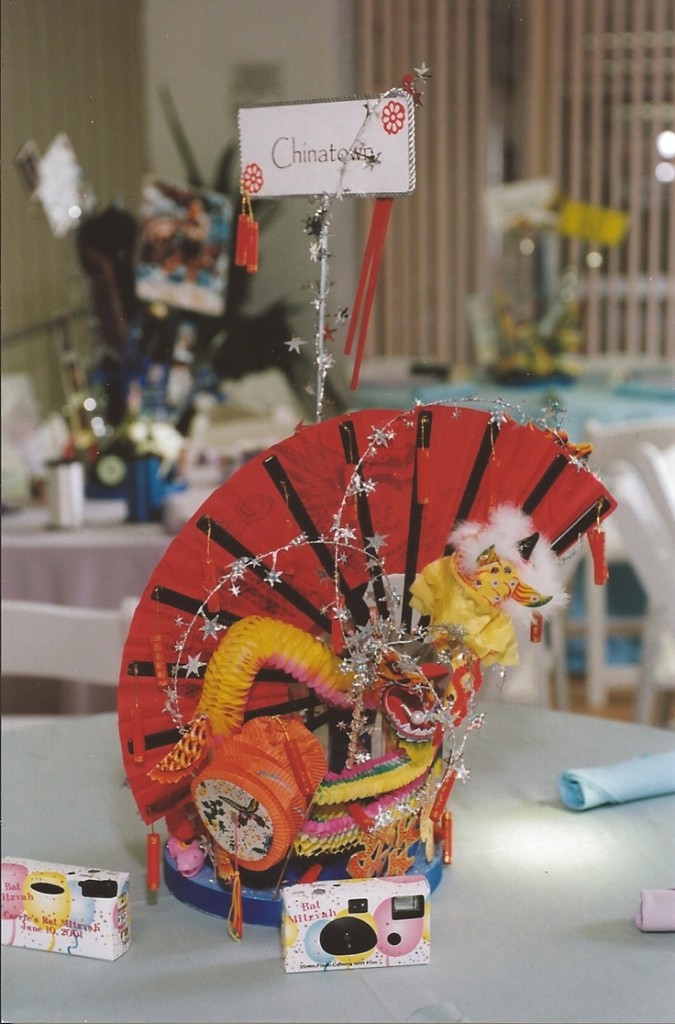 Here is another centerpiece idea from Party411: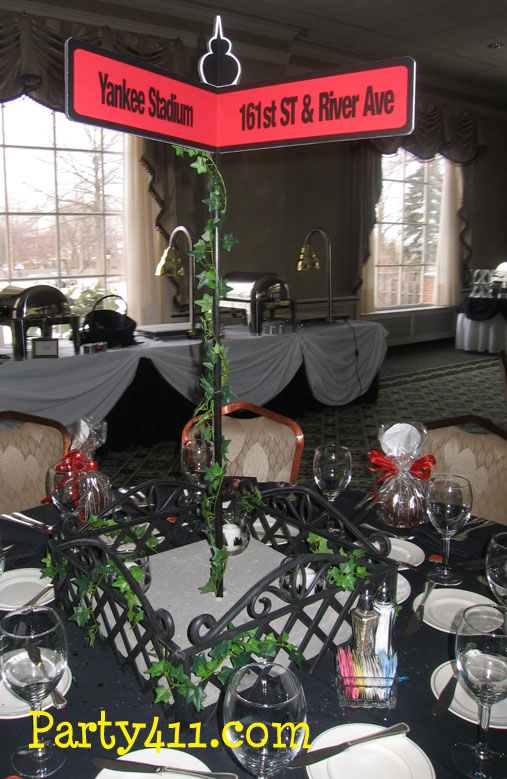 Check out the cool city-themed decor for this party featured on Mitzvah Market: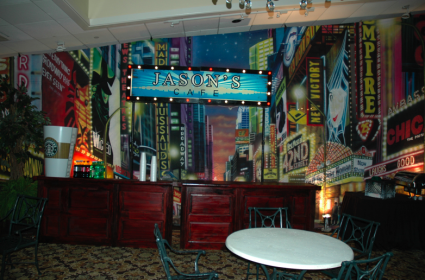 For food, either during your cocktail hour or dinner set up "New York"-themed food stations. You can offer a hot dog cart, pretzel stand, pizza truck, or Chinese food. New York has everything!
You can rent a real hot dog cart from companies like Bergen Party Rentals: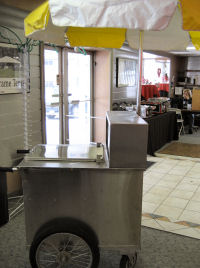 You can also rent a pizza truck or cart, either for guests to enjoy inside during the cocktail hour, or set up outside for guests to take slices home as they are leaving your party. Companies and restaurants like Eddie's Pizza rent carts and trucks for events: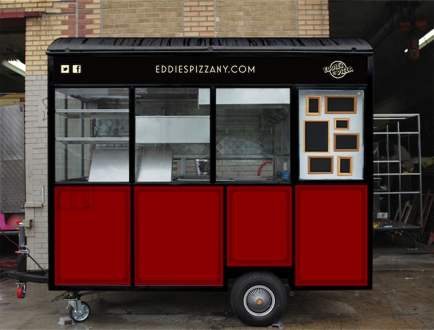 Parties by Debi creates cool pieces for your candle lighting ceremony, such as this one with a New York City theme: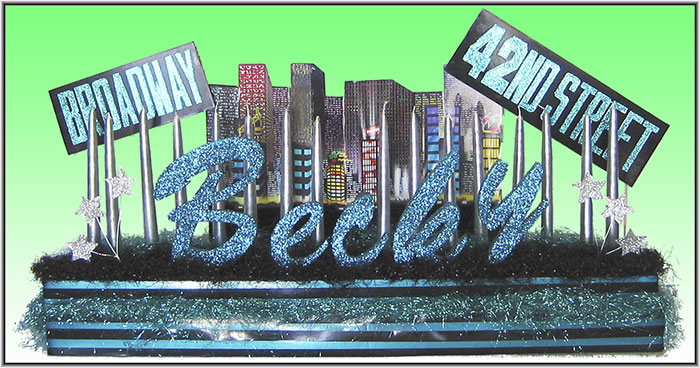 For dessert, here is a beautiful New York City-themed cake from Colette's Cakes: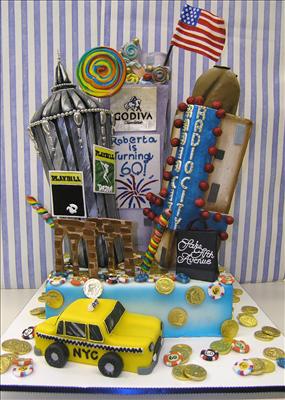 And check out this amazing dessert buffet featured on B. Lovely Events: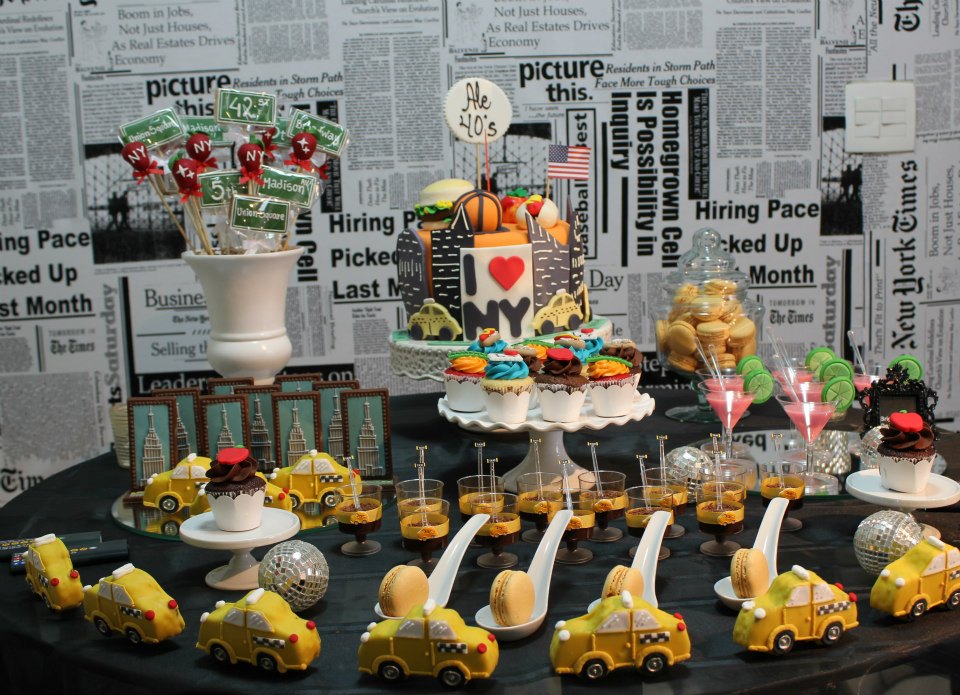 Offer a selection of New York City cupcakes like these featured on Kara's Party Ideas: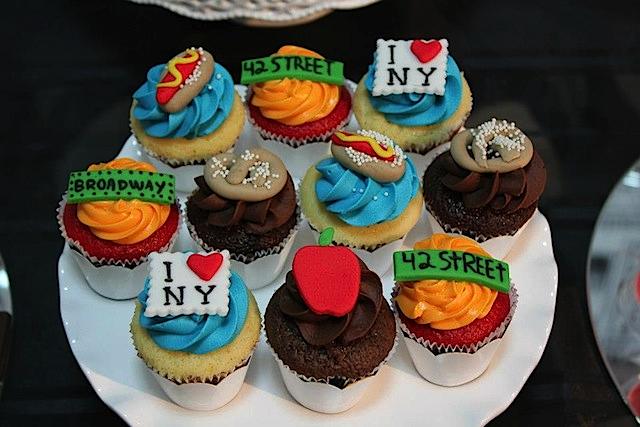 Dylan's Candy Bar is a famous New York candy store; use that logo for your candy buffet: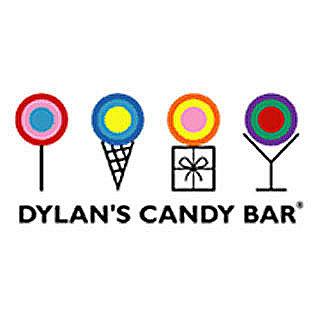 Or offer a black and yellow taxi-themed candy buffet like this one from Nuts.com: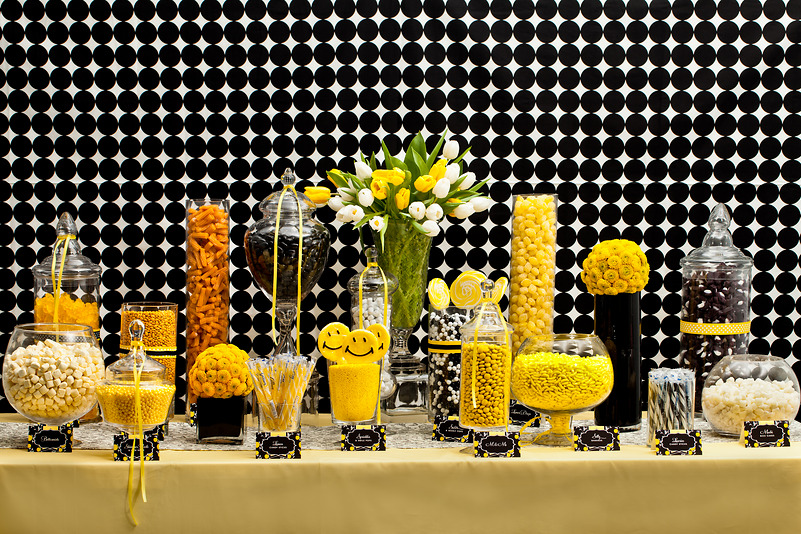 For instructions to create your own candy display like the one above, and links to all of the products you will need, see Step By Step: Create Your Own New York City or Broadway-Themed Candy Buffet.
Coordinate your sign-in board with your theme. Here is a Broadway-inspired board from Parties by Debi: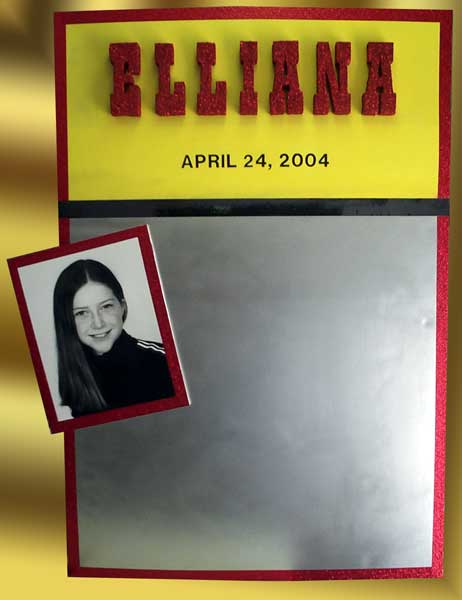 For favors, give your guests cute personalized grippy socks like these from Cool Party Favors: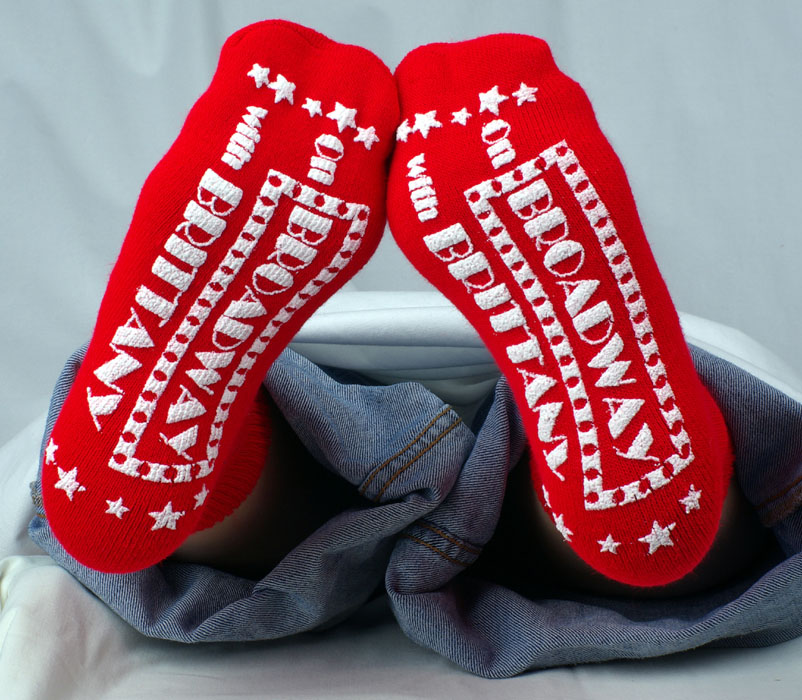 Shindigz offers personalized city skyline travel mugs: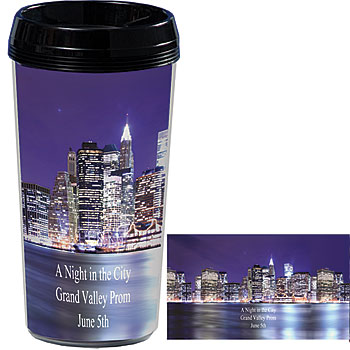 Send your guests home with individually wrapped cookies like these available on Etsy: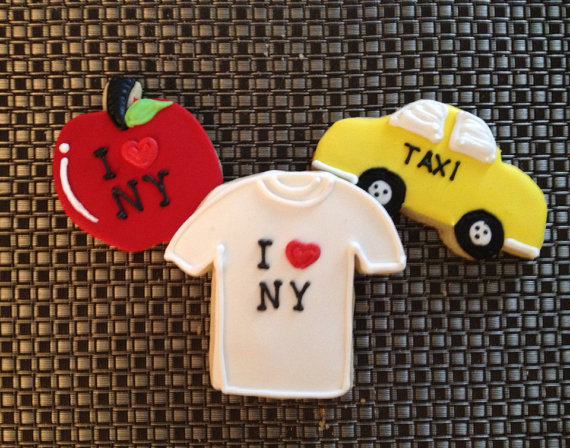 For more New York City-themed favor ideas, see New York Theme Favor Ideas for Your Bar or Bat Mitzvah or Wedding.
Set up this authentic New York City news stand from Creative Games at your venue's exit. You can offer your guests coffee, juice, doughnuts, as well as early editions of the next day's newspapers!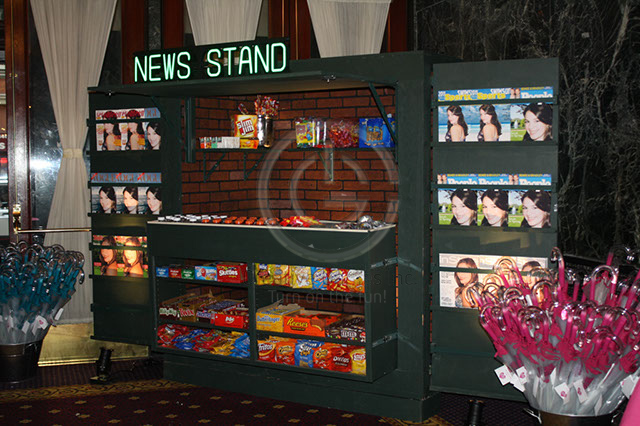 And don't forget a basket of apples by the door for your guests to take as they leave, as seen on Kara's Party Ideas: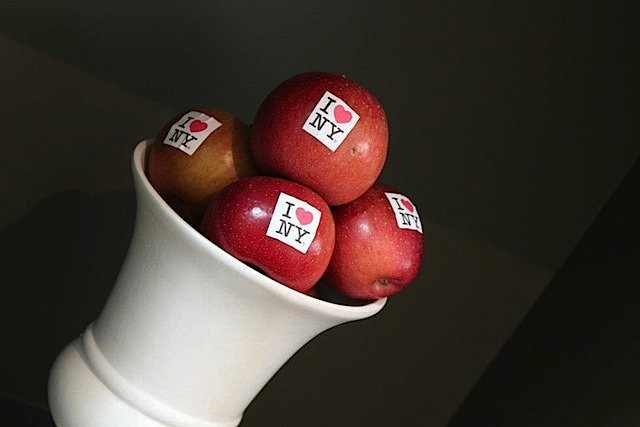 For more ideas, check out our Pinterest Board for New York Themed Bar and Bat Mitzvah Ideas.