Hanukkah begins in less than two weeks and the third night overlaps with Shabbat. In case you're looking for a fun challah to make that Friday we're giving you the "Menorah Challah" recipe from Kveller. It's really no more complicated than a regular challah, you just may need extra time to prepare what with Thanksgiving the day before. Your family and guests will be very impressed with this challah!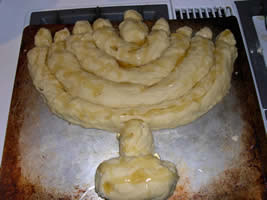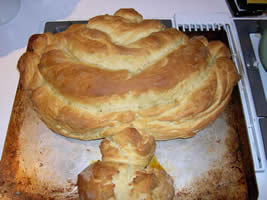 Menorah Challah
Adapted from Kveller
Yield: 1 menorah challah
Ingredients:
¾ cup sugar
2 and 1/4 cups lukewarm water
¾ cup vegetable oil
1 tablespoon salt
4 small eggs
3 envelopes yeast
8-10 cups flour
honey
Instructions:
Combine sugar, 2 cups water, oil, and salt.
Add eggs to mixture.
In a separate bowl, mix yeast in ¼ cup warm water.
Add the yeast mixture to the sugar mixture.
Add 4 or 5 cups of flour and mix well. Gradually add 4 or 5 more cups of flour, until it reaches a workable consistency.
Knead dough for 10 minutes.
Lightly coat a bowl with vegetable oil and put dough in bowl.
Lay a piece of wax paper over the bowl and then a dishtowel over wax paper.
Let dough rise for one hour, until roughly doubled in size.
Punch down dough and knead again for a few minutes.
Cover again with wax paper and towel and let rise for another 30 minutes.
To Shape Dough into a Menorah:
Preheat oven to 325 degrees.
Divide the dough into five larger pieces, and two smaller pieces.
Take one of the smaller pieces and roll into a log. This will be the shamash candle.
Make four long logs or ropes of challah with four of the five large pieces.
Loop those logs around the shamash in a U shape to form the 8 candlesticks surrounding the shamash candle.
Divide your last small piece of dough into nine balls. Pinch each one at the top to form teardrop shapes. These will be the "flames."
Attach the flames to the top of the candlesticks by pinching together.
Use the last large piece of dough to make a base for your menorah.
Drizzle honey over your menorah challah, or brush with an egg wash.
Bake at 325 degrees for 50 minutes.
Let cool on rack.
Here is another fun menorah (and dreidel!) challah from the Bible Belt Balabusta: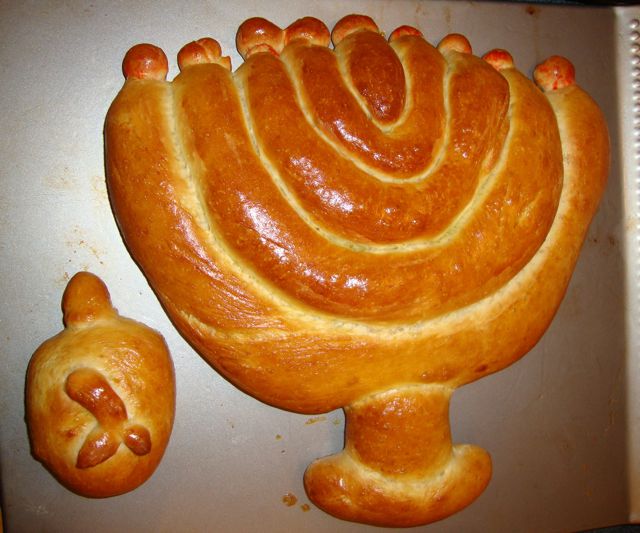 We're sure you'll be reluctant to cut into your beautiful challah menorah, but when you do, use this Nambé Judaica Bread Knife
.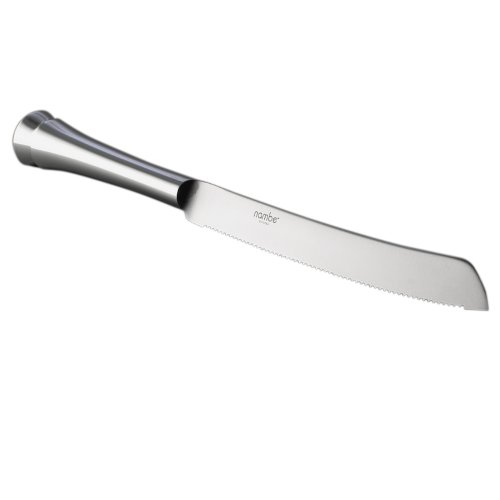 13 1/2 inches long, serrated stainless steel blade. It comes gift-boxed and would make a lovely hostess gift.
Nambe is featured in the MOMA and 23 museums worldwide. Nambe Judaica also makes beautiful Sabbath Candlesticks
and a Kiddush Cup
: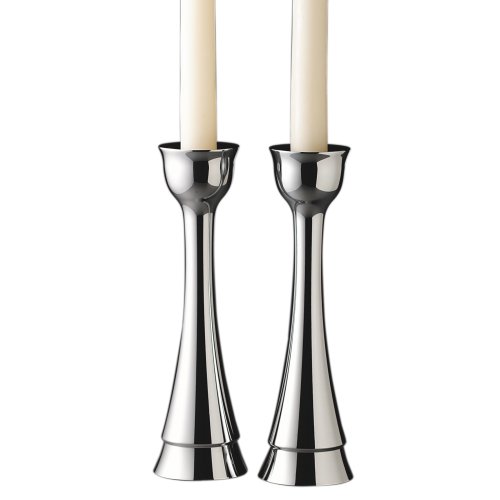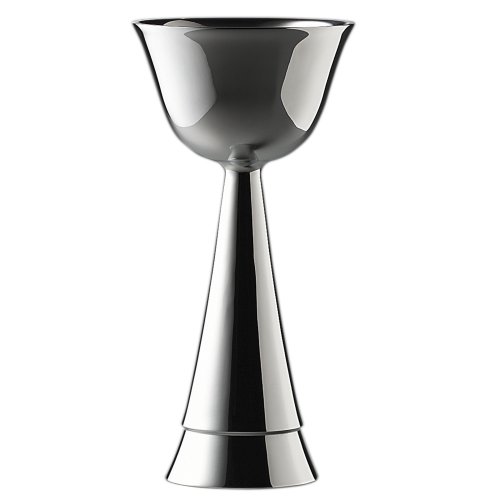 Hand-polished of Nambe's alloy. Nambé metal will not crack, chip, or tarnish.
Find these pieces of Nambe Judaica and more in our Jew it Up Store.
Shabbat Shalom!