This year Tu Bishvat begins on the evening of Wednesday, January 15th. This festival is also known as the "New Year for Trees." The Bible expresses great reverence for fruit trees and special laws were formulated to protect them in times of war. In contemporary Israel the day is celebrated as an ecological awareness day and trees are planted in celebration. Many people also observe Tu Bishvat by eating fruits and nuts that are the products of trees.
One Tu Bishvat custom is to eat a new fruit on this day, or to eat from the Seven Species (shivat haminim) described in the Bible as being abundant in Israel. The Shivat Haminim are: wheat, barley, grapes, figs, pomegranates, olives and dates. Many people also serve a seder-type meal similar to a Passover seder, during which fruits and nuts are eaten.
Here are some fun fruit and nut recipes you can make with your kids, from Education.com.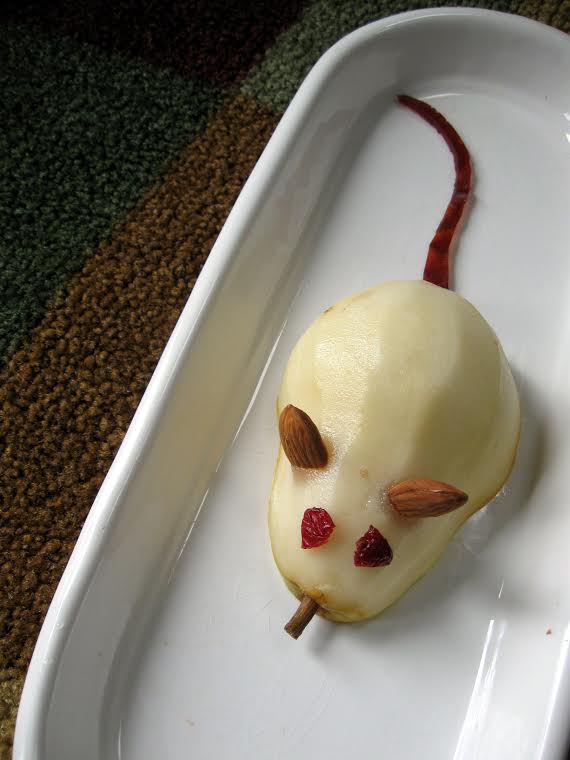 Ingredients:
1 mango
1 cored apple
Small pieces of colorful dried fruit
Slices and pieces of fresh fruit (seeds and skin removed as appropriate
Nuts
Seeds
Fruit "leather"
Ready-to-use icing (to use as 'glue')
Instruction:
Gather all the ingredients and display them on a tray, so your child can easily view the materials that he has available to work with.
Get your child to stick two small pieces of candy onto the apple as "eyes," using the icing as glue.
Invite him to decorate the rest of the creature using the dried fruit. Here are some suggestions:
Use mango strips or halved dried apple rungs as ears.
Use fruit leather cut into fine strips as hair.
Use halved fresh seedless grapes, small nuts, raisins or seeds for eyes.
Use a peeled, cored halved fresh pear into a mouse! Just add raisin eyes, almonds as ears, and a thin strip of fruit leather as a tail.
Make a fresh mango hedgehog! Slice a side of mango and cut the flesh in a criss-cross pattern, being careful not to cut through to the skin. Then carefully turn it inside-out to reveal a hedgehog shape. He can also add eyes, a raisin nose, and fruit leather whiskers!
When your child has finished decorating, his fruity creature will be ready to eat!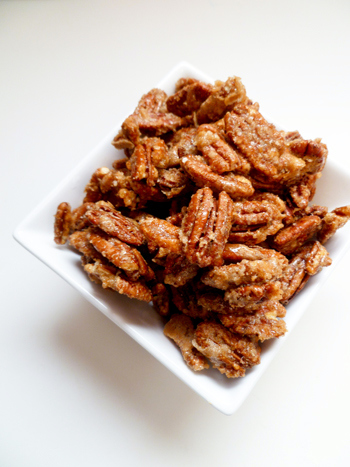 Ingredients:
1-pound pecans
1 egg white
½ cup brown sugar
½ cup plain sugar
½ teaspoon cinnamon
¾ teaspoon salt
Sheet tray
Parchment paper
Mixing bowl
Fork
Spatula
Instructions:
Start by helping your child preheat the oven to 250 degrees Fahrenheit and cover a sheet tray with a piece of parchment paper.
Now invite your child to separate the egg. Separating an egg is a true talent – so encourage your child to take her time! Once she's separated the egg make sure to wash hands!
Have your child place the egg white in the mixing bowl and froth lightly with a fork.
Now she can add the pecans and stir with a spatula until they are all evenly coated with the egg white, which encourages her fine motor skills!
It's time to get sugared! Offer your child some measuring cups and invite her to measure the sugars into the bowl. She can also measure and add the salt and cinnamon.
After your child has stirred together the ingredients and coated the pecans with the sugar mixture, she can evenly spread them on the sheet pan.
Now she can place her sugared pecans in the oven and let bake for an hour!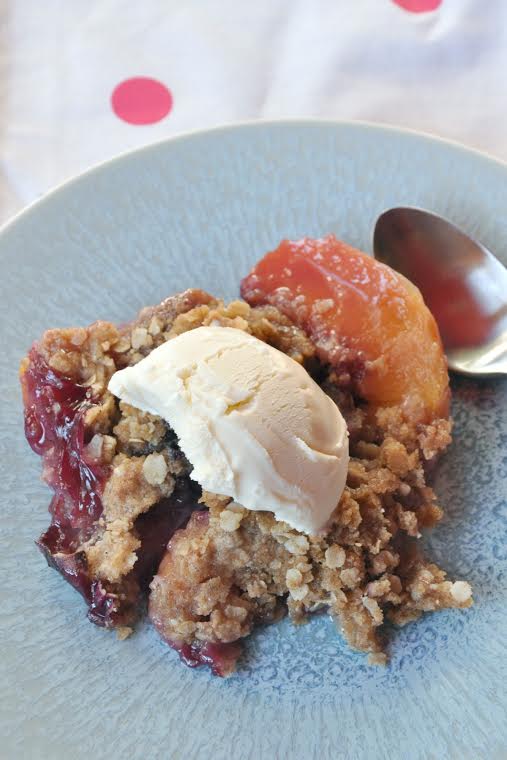 Ingredients:
10 peaches, washed
1 cup blueberries, rinsed and drained
¾ cup sugar (adjust according to sweetness of fruit)
2+ Tablespoons of flour
1-1/2 cup flour
1-1/2 teaspoon of cinnamon
1-1/2 cup brown sugar
dash of salt
1 cup oatmeal
2 sticks butter
Instructions:
First, preheat oven to 350 and butter a 13 x 9 baking dish.
Next, make the filling: Pit peaches and cut into thick wedges. Toss fruit with sugar and flour in a large bowl. Add more flour if mixture seems runny. Spoon into baking dish, smoothing top.
Make the topping: mix the dry ingredients in a bowl. Add the butter and use two knives to cut into pea-sized pieces, incorporating the dry ingredients. Mixture will be lumpy. Scatter on top of filling.
Bake about 1 hour at 350, or until crisp is browned and bubbly. Serve warm with vanilla ice cream.
For more recipe ideas, see our Pinterest board for Tu Bishvat Recipes. Enjoy!