Because they are the Four Cocktails of Passover! During the Seder we already have the Four Questions and the four cups of wine, now Jewish Boston has created the Four Cocktails of Passover in The Four Cocktails: An Illustrated Passover Guide.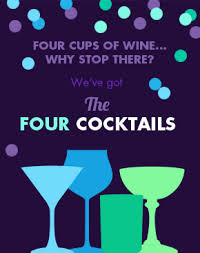 They include the Spring Remembrance, reminding us of our tears during slavery with its salt-lined rim and parsley garnish; the Mortar, which is like charoset in a glass with Applejack brandy and Black Walnut Bitters; the Parting of the Sea, in which the long lemon slice garnish "parts" the grenadine-tinted beverage; and the Rebirth, a cocktail made with a whole egg.
Shake up your Seder and use these drinks to help tell the story of Exodus. Your guests will thank you!
Find the full recipes here.