Is there anything more delicious in the fall than moist, rich pumpkin bread? Here is a fantastic recipe that freezes beautifully and can be also be made as muffins or mini-loaves. I don't put raisins or nuts in my bread but have occasionally added chocolate chips, since what doesn't taste better with a little chocolate?
Depending on your kosherness or when you are serving, you can also put out some cream cheese to spread on the bread. Stir or whip a few tablespoons of honey into the cream cheese before serving for a heavenly and New Year-appropriate treat! Bring this to visit friends during the holidays or enjoy anytime!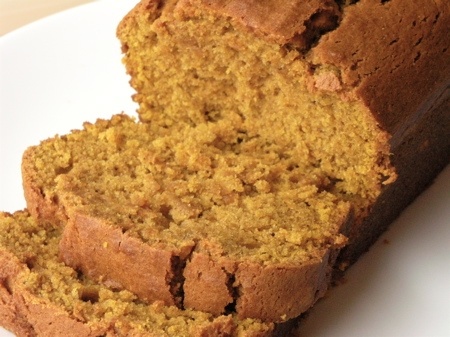 Holiday Pumpkin Bread
Adapted from Myrecipes.com.
Yield: Makes 2 loaves
1 (15-ounce) can unsweetened pumpkin
1 cup canola Oil
3 cups sugar
3 large eggs
3 1/2 cups all-purpose flour
2 teaspoons baking soda
1 teaspoon baking powder
1 teaspoon ground cinnamon
1 teaspoon ground nutmeg
1/2 teaspoon salt
1/2 teaspoon ground cloves
Optional:
1 cup chopped walnuts
1 cup raisins
1 cup chocolate chips
Beat first 11 ingredients at low speed with an electric mixer 1 to 2 minutes or until blended. Stir in 1 cup each walnuts and raisins if desired, or 1 cup chocolate chips. Pour batter into 2 (9 x 5-inch) dark, nonstick loaf pans coated with butter or cooking spray.
Bake at 350° for 55 minutes or until a toothpick inserted in center comes out clean. Cool loaves in pans on wire racks for 15 minutes; remove from pans, and let cool completely.
Note: For light, shiny loafpans, bake 1 hour and 5 minutes or until a toothpick inserted in center comes out clean.
To make muffins: Spoon batter evenly (about 1/4 cup each) into lightly greased muffin pans. Bake at 350° for 20 to 25 minutes. Remove from pans immediately; cool on wire racks. Makes 3 dozen.