Celebrate Chocolate Cake With Our Favorite Recipes
In honor of National Chocolate Cake Day (yes, it really exists!), we are presenting some of our favorite chocolate cake recipes, as well as a book about the connections between Jews and chocolate.
The first recipe, commonly called "Texas Sheet Cake," is great to have on hand. It is easy, foolproof, and makes A LOT of delicious, moist cake. We are guessing that is why it's called "Texas Sheet Cake" – everything is bigger down there! Perfect for birthdays, potlucks, anytime you need to feed a crowd something chocolate and yummy.
There are also several ways you can tweak the recipe depending on your tastes, which we've noted.
Texas Sheet Cake
Adapted from About.com
Ingredients:
For the Cake
1 cup butter
1 cup water (you can also use 1/2 cup water and 1/2 cup coffee)
1/4 cup cocoa (use the best quality you can find, it makes a difference!)
2 cups sugar
2 cups flour
1/8 teaspoon salt
2 eggs
1 teaspoon baking soda
1/2 cup sour cream or buttermilk
1 teaspoon vanilla
1/2 teaspoon cinnamon if desired
For the Frosting
1/2 cup butter
1/4 cup cocoa
1/4 cup plus 2 tablespoons milk
1 lb confectioners' sugar, sifted (4 1/4 cups sifted)
1/2 teaspoon vanilla
Directions:
1. Preheat oven to 350 degrees. Grease and flour a 15 x 10 x 1 inch jelly roll pan.
2. Combine 1 cup butter, water (or water and coffee mixture), and 1/4 cup cocoa in saucepan over medium heat.
3. When butter is melted, add sugar, flour, salt, eggs, soda, sour cream or buttermilk, and 1 teaspoon of vanilla. Mix well. If you'd like a bit of spice, add your cinnamon now.
4. Pour mixture into jelly roll pan.
5. Bake at 350° for about 20 minutes, or until a toothpick inserted in the center comes out clean.
6. Meanwhile, prepare the frosting. Combine 1/2 cup of butter, 1/4 cup of cocoa, and milk in a saucepan and bring to a boil.
7. Remove from heat. Add the confectioners' sugar and 1/2 teaspoon of vanilla and mix well with electric mixer. The frosting should be somewhat runny, not too thick.
8. Poke holes over top of cake with a toothpick so frosting can seep in the cake. Pour the frosting over the cake and spread as necessary. Some people also like to stir about 1/2 cup of chopped pecans into the frosting mixture.
9. Enjoy!
Here is a roundup of various chocolate cake recipes that we also like for different occasions. There is a dairy-free cake to serve after meat meals on Shabbat, a flourless cake for Passover, and a quick, easy mug cake for anytime!
If you are looking for a dairy-free chocolate cake recipe for Shabbat, this Friday Night Double Fudge Chocolate Cake from King Arthur Flour is both butter and milk-free.
Here is a great Flourless Chocolate Cake recipe from Real Simple that is perfect for Passover and looks beautiful.
And if you need your chocolate fix RIGHT NOW, here is a great Two-Minute Chocolate Mug Cake recipe.
Interested in learning more about the history of Jews and chocolate? Check out On the Chocolate Trail: A Delicious Adventure Connecting Jews, Religions, History, Travel, Rituals and Recipes to the Magic of Cacao
. Rabbi Deborah Prinz explores the surprising Jewish and other religious connections to chocolate in this gastronomic and historical adventure through cultures, countries, centuries and convictions.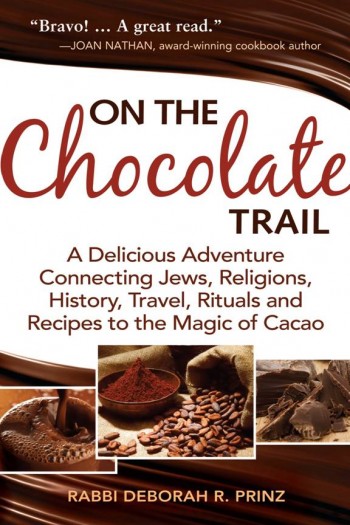 Yum!