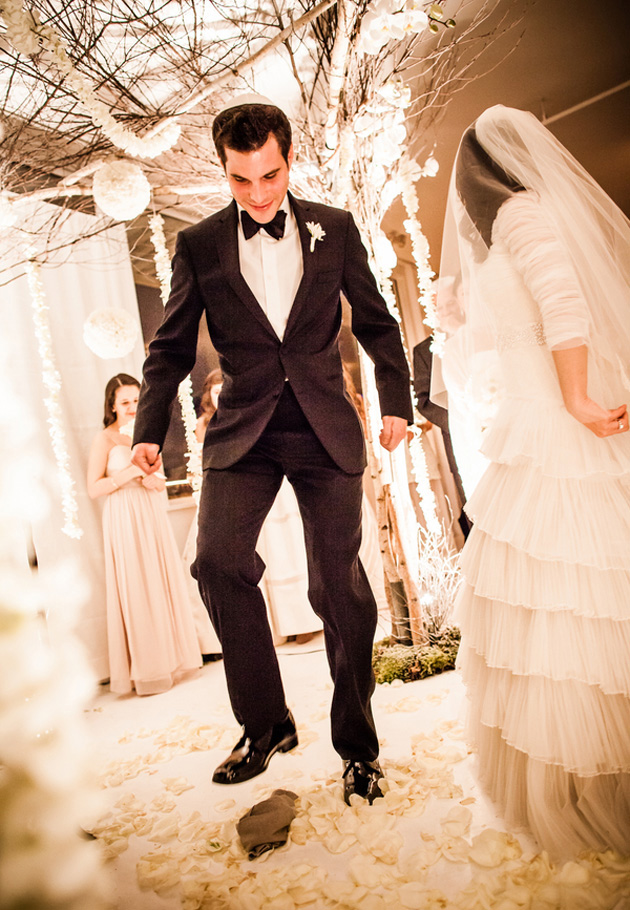 Breaking a glass is a fun tradition at the conclusion of a Jewish wedding ceremony.
Typically, a glass or light bulb is wrapped in a cloth and placed on the floor. The groom shatters it with his right foot, bringing cheers of jubilation, applause, and excitement from those in attendance.
There are several theories regarding the origin and significance of this tradition. Here are some of the more well-known and widely accepted theories of why we break a glass:
To represent the destruction of the Temple in Jerusalem
To mark the change in the couple's lives from separate to together
As a reminder that relationships are delicate and must be treated with love
And (much to our delight), to represent the last time the groom gets to "put his foot down"
Whatever its genesis, the breaking of the glass has become a significant and memorable part of the ceremony, and now there are many ways to commemorate the moment and display the shattered glass as a valued keepsake in your home after the wedding.
Instead of a light bulb, start with a pretty glass like this Gold Keepsake Groom's Wedding Glass With Silk Pillow
: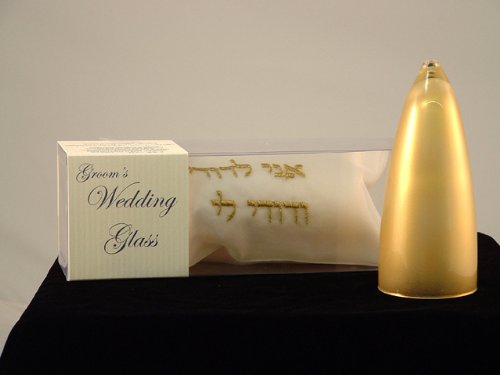 This groom's "Mazel Tov" wedding glass is actually a stemless champagne flute. The pillow is hand-painted silk embroidered with the Hebrew inscription: "I am my beloved's and my beloved is mine."
The pillow is lined to safely contain the glass shards.
Rosenthal also makes Wedding Chuppah Glasses
in a variety of colors: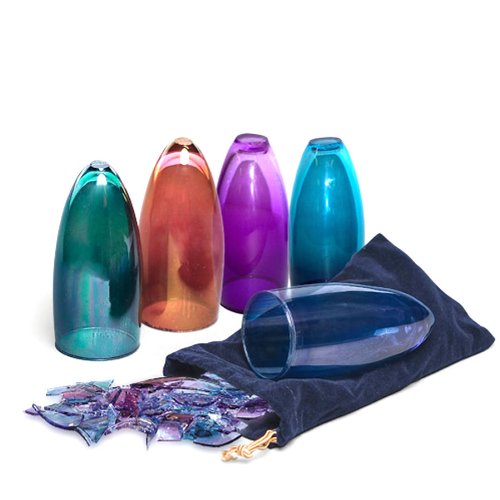 After these hand-colored glass goblets are used at the wedding ceremony they can be remembered forever. Think about where you will display the shards and pick a color to match the room's decor. Each glass comes in a navy blue bag, so it is safe and easy for breaking.
You can also use a Shardz Wedding Glass Vessel: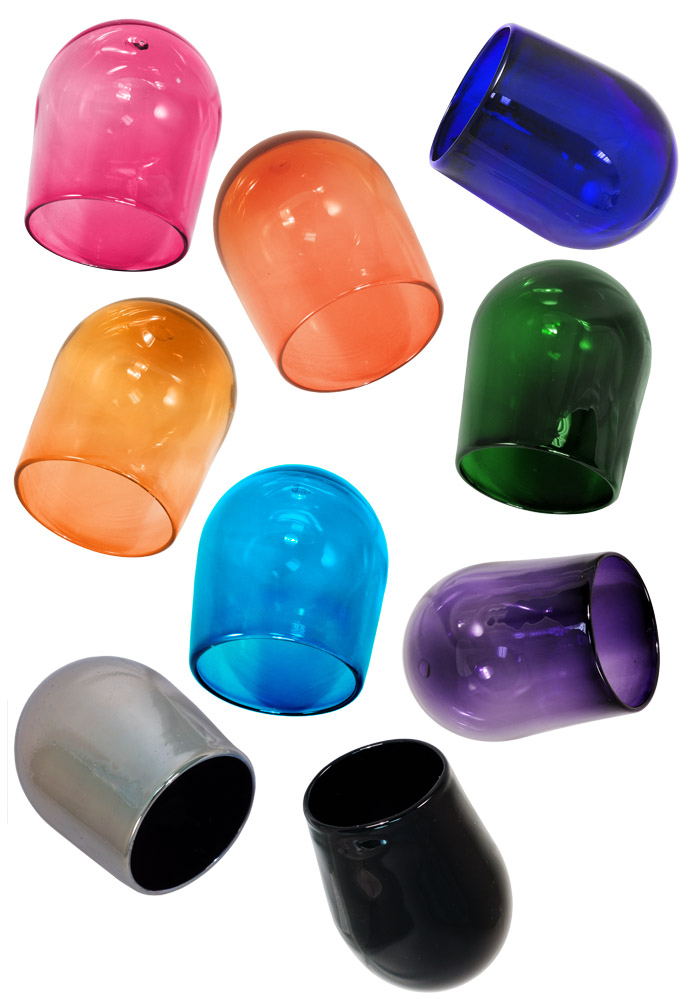 Each beautiful hand-blown glass vessel comes with its own satin bag. They are available in cobalt blue, ruby red, purple, metallic, teal, peach, amber, emerald green and black.
After the wedding, place the shards in this Wedding Mezuzah
from Zion Judaica: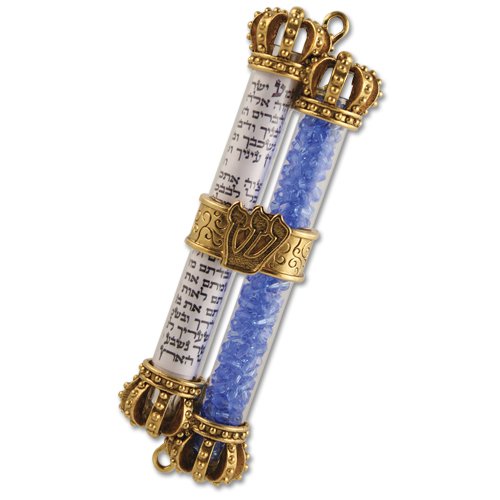 The mezuzah has two tubes, one for the scroll and the other for the pieces of the wedding glass. Measures 5″ high.
Glass shards can also be put in this Celestial Frosted Wedding Glass Shards Mezuzah by Beames Design
: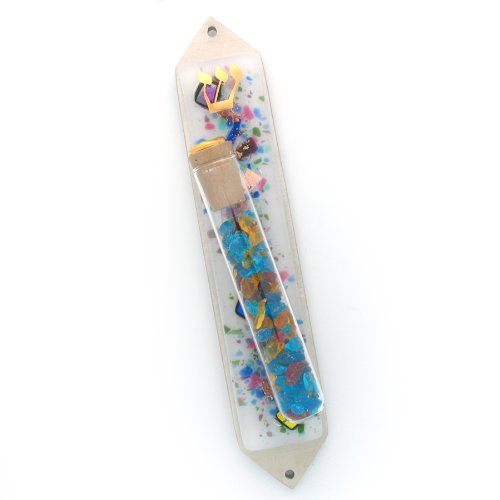 This striking mezuzah is made by fusing particles of glass, an art form that dates back 4000 years to the Middle East. Variations of design and color are both the nature of the glass and the handmade process.
You can also put the glass shards into a cool modern picture frame: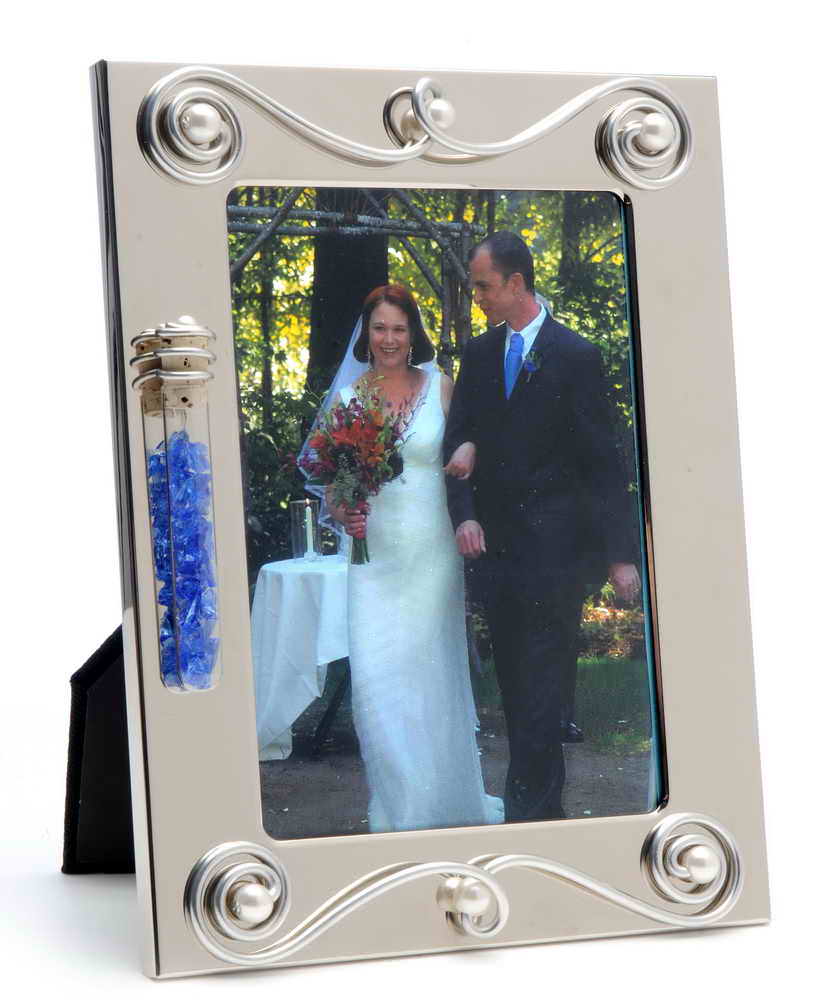 This silver-plated frame fits a 5 x 7 inch picture and is available from Traditions Jewish Gifts.
The shards can also be kept in this lovely Gary Rosenthal box that doubles as a small sculpture: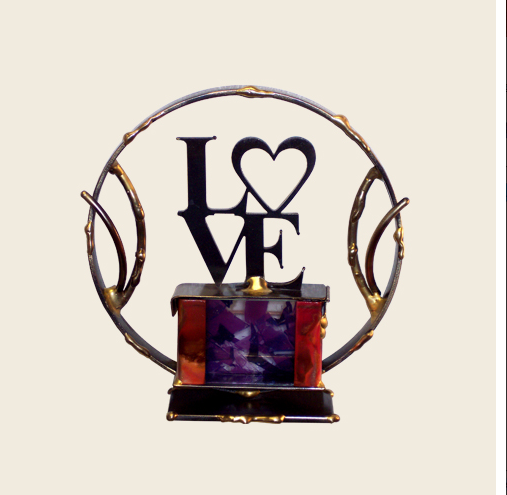 Or a pretty kiddush cup: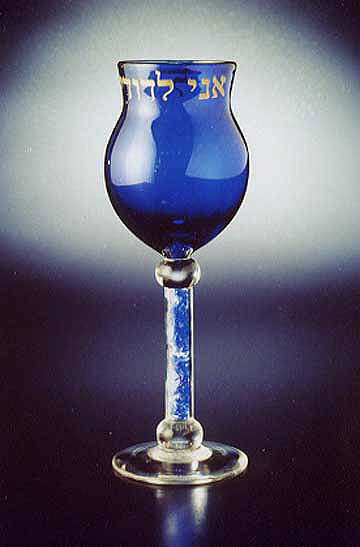 And we love this personalized glass cake plate from Traditions Jewish Gifts: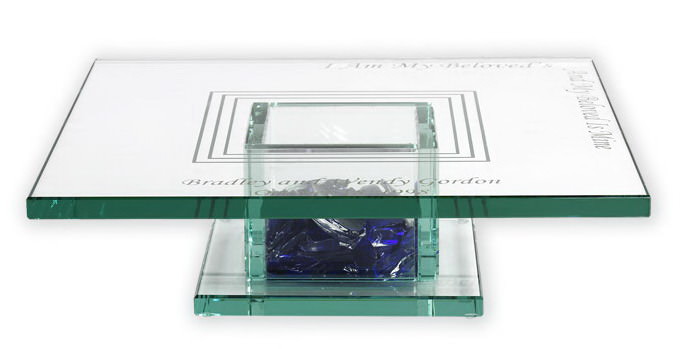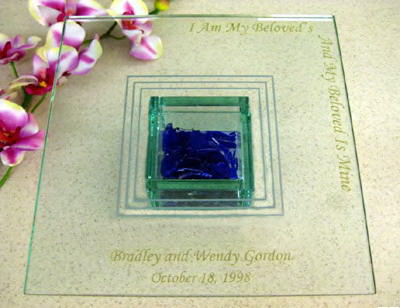 The pedestal is filled with the crushed glass from the wedding, and the names of the bride and groom and wedding date are etched in gold or silver onto the plate, along with the phrase "I Am My Beloved's And My Beloved Is Mine."