Give a Holler for a Chocolate Challah!
It's Friday and that means carbs – oops, challah! And if you're having carbs you may as well throw in some chocolate, so this week we present Double Chocolate Challah from The Challah Blog. In this case, two wrongs definitely make a right!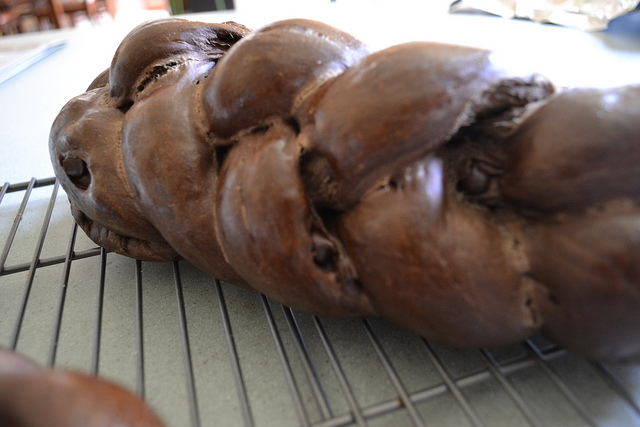 Double Chocolate Challah
Adapted from The Challah Blog:
Ingredients:
3/4 cup water
2 tsp. active dry yeast
5 Tbsp. sugar
1 egg plus 1 more for egg wash
1/4 cup vegetable oil
3 cups flour
4 Tbsp dutch cocoa powder
about 1/4 cup of chocolate chips (use vegan chips for a parve challah)
Mix water together with yeast and 1 tablespoon of the sugar.
Allow to rest for around 10 minutes or until yeast creates little eruptions. Meanwhile, mix together the rest of the sugar, flour, and cocoa powder in a large bowl.
Add egg and oil to the yeast mixture and stir gently. Add flour mixture. Knead by hand or with a stand mixer. You may have to add more water to the dough due to the added cocoa powder.
Let the dough rise for about an hour and a half, or until it has nearly doubled in size.
Punch down dough. Separate into balls for braiding and knead chocolate chips into each strand.
Braid and let rest for additional half hour. Brush with egg wash.
Bake at 350 for about 30 minutes or until internal temperature reaches 180-200 degrees.
This challah is not super-sweet, despite the chocolate. It will have a mild, rich flavor. Serve before or after dinner, up to you. Just make sure to serve it in style on a beautiful tray like one of these featured below:
This gorgeous Frangipani Design Hammered Nickel Challah Tray
comes with a matching knife.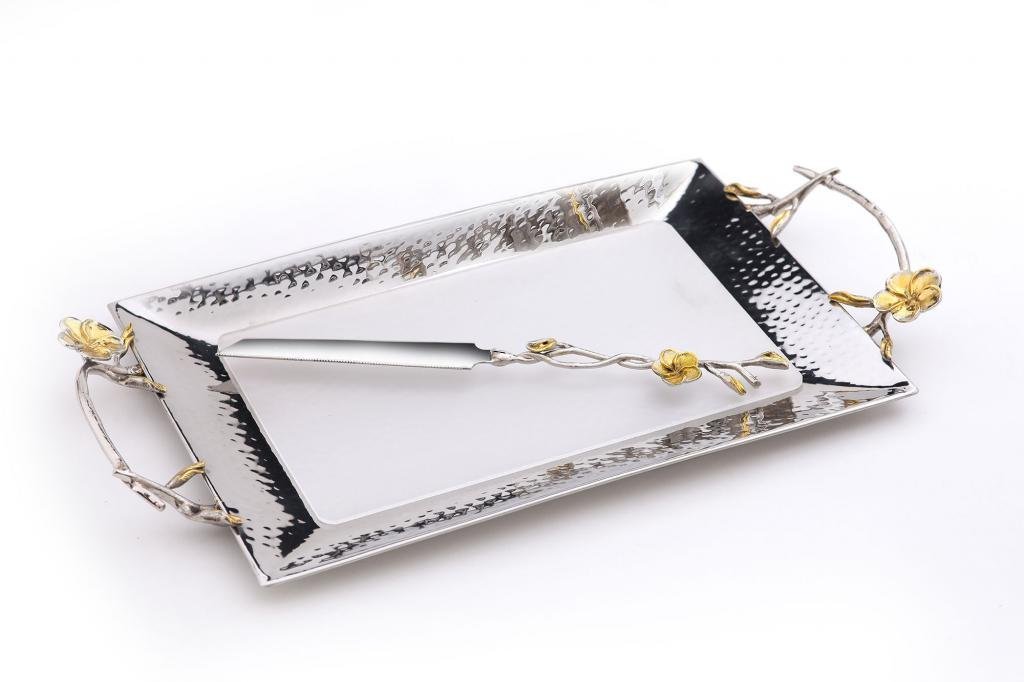 Measures 16 by 11 inches.
This pretty blue Lily Art Glass Appliqued Challah Tray
would look lovely on the table.
Measures 15 x 10 inches.
Make sure to save some of that challah for french toast tomorrow!
Shabbat Shalom!