Foods Jews Love and Foods We Eat Because We're Jewish
Today is National Chicken Noodle Soup Day, which is certainly a day that Jews can get behind as we practically invented the stuff. Hey, isn't it known as the "Jewish Penicillen?" If you'd like to celebrate with some yourself, here is a great recipe for homemade "Jewish" chicken soup from the Huffington Post: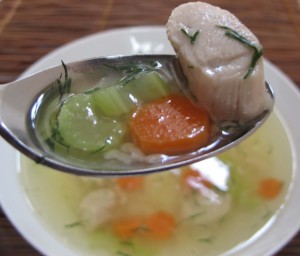 If you don't have several hours to spend preparing this delicious but admittedly time-consuming soup, use one of our favorite time-savers, Manischewitz or Streit's prepared soup mixes. Here is how we do it: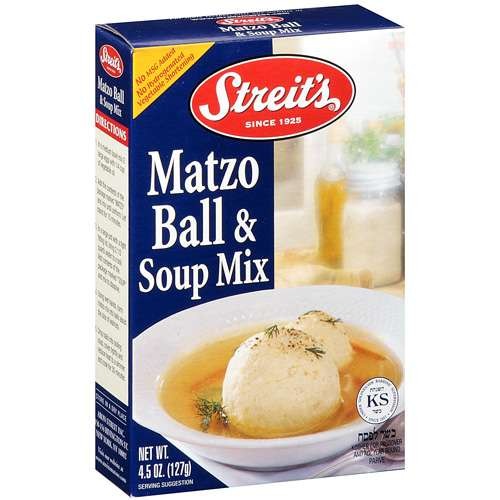 This chicken soup is so delicious, people always love it and assume it was made (matzo balls included), from scratch.  Streit's and Manischewitz each offer soup and matzo ball mixes, and both make light and fluffy  matzo balls. The store-prepared rotisserie chickens are usually seasoned, which gives a nice flavor to the soup.
Ingredients:
1 package Streit's or Manischewitz Matzo Ball and Soup mix.
1 cup baby carrots
4 stalks celery
Onion if desired
Store-bought rotisserie chicken
8 oz dried egg noodles
Directions:
If you are planning to add matzo balls, make them now according to mix instructions and let them sit. If you're planning to add noodles instead, skip this step.
Start water boiling for soup.  I usually add an extra cup or so of water, since the soup will be bulked up with the extra ingredients and cooks a bit longer.
Slice carrots, celery and half an onion if desired into ¼ – ½ inch pieces.
Shred half the rotisserie chicken.
If you add the matzo balls to soup (pay attention to the box and make them small, they really puff up), also add the chicken and vegetables then.  Cover and let simmer for ½ hour, according to box.
If you'd like to use noodles instead, add egg noodles after the chicken and vegetables have been simmering for about 20 minutes, and leave them in for about ten minutes.
Enjoy!
While chicken soup is universally enjoyed, there are definitely a lot of "Jewish" foods out there that do not have mass appeal. This article from The Huffington Post titled 7 Foods I Would Never Touch if I Wasn't Jewish pretty much nailed them. We are Jewish and really don't like to go near a number of them ourselves.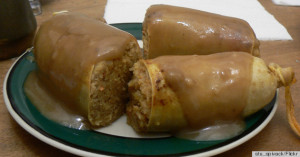 Bon Appetit!