When you don't have time to make from scratch…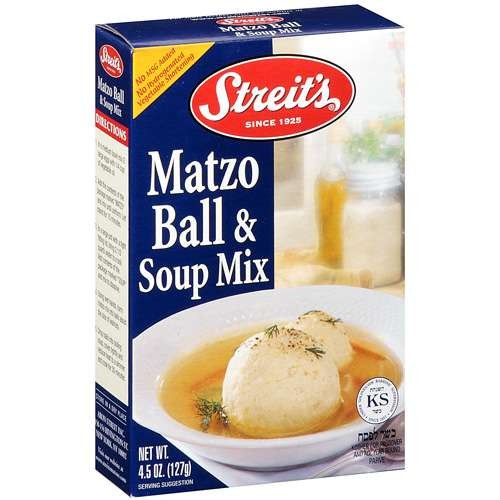 This chicken soup is so delicious, people always love it and assume it was made (matzo balls included), from scratch.  Streit's and Manischewitz each offer soup and matzo ball mixes, and both make light and fluffy  matzo balls. The store-prepared rotisserie chickens are usually seasoned, which gives a nice flavor to the soup.  My local grocery store sells herb and lemon-pepper chickens, along with traditional roasted.  I try to get an herb but the others work well and also taste delicious.  You can make the soup earlier in the day then let it sit in the fridge in the pot for several hours, and simply reheat on the stove with the cover on before serving.  Enjoy!
Ingredients:
1 package Streit's or Manischewitz Matzo Ball and Soup mix.
1 cup baby carrots
4 stalks celery
Onion if desired
Store-bought rotisserie chicken
Directions:
Make matzo balls according to mix and let them sit.
Start water boiling for soup.  I usually add an extra cup or so of water, since the soup will be bulked up with the extra ingredients and cooks a bit longer.
While the matzo balls sit, slice carrots, celery and half an onion if desired into ¼ – ½ inch pieces.
Shred half the rotisserie chicken.
When you add the matzo balls to soup (pay attention to the box and make them small, they really puff up), also add the chicken and vegetables.  Cover and let simmer for ½ hour, according to box.
Feeds about 10 – 12, you can double the recipe if needed.
Hide the box!  When everybody tells you this is the most delicious soup they've ever had, just nod and accept the compliments.