Every event we attend now seems to provide a candy buffet for guests' enjoyment. Sometimes the buffet is offered as an addition to dessert, at other events the candy is set up near the exit for guests to take as they are leaving the party.
You can save a lot of money if you put your winter-themed bar or bat mitzvah candy buffet together yourself.  Caterers charge thousands of dollars to build a candy buffet to complement your event's decor; however, you can create your own extravagant and beautiful candy display for much less.
Start by buying your candy online from Candy Warehouse.  They sell bulk candy directly to the consumer, saving you hundreds of dollars in candy costs. Candy Warehouse's site is so easy to use, as they categorize candy by color, season, occasion, and holiday.  There are also instructions for how much candy to buy to create your buffet.
If you're throwing a winter wonderland-type event, build a beautiful all-white candy buffet like this: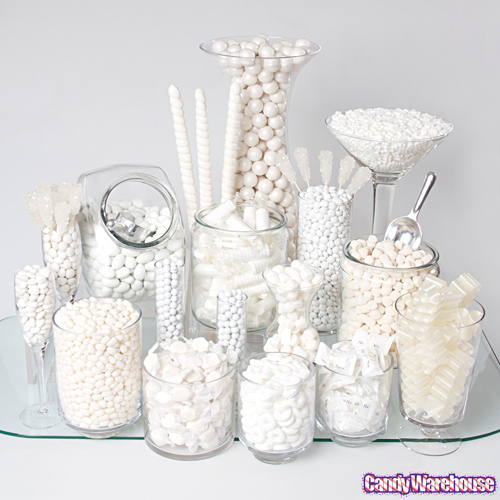 For variety, use white candy in different shapes and sizes such as:

Sixlets Mini Milk Chocolate Balls – White: 2LB Bag

White Gummy Bears: 5LB Bag

Milk Chocolate Covered Malt Balls – White: 5LB Bag

Vanilla Salt Water Taffy: 5LB Bag

Wrapped Hard Candy Ovals – White: 5LB Bag

White Unicorn Pops: 24-Piece Display

All White 3-Ounce Twister Lollipops: 12-Piece Box

All White Swirl 1.5-Ounce Whirly Pops: 24-Piece Display

Old Fashioned Thin Ribbon Candy – White: 8-Piece Box

Chocolate Jordan Almonds – White: 5LB Bag

White 1-Inch Gumballs: 850-Piece Case
You can incorporate some silver for a frosty winter display.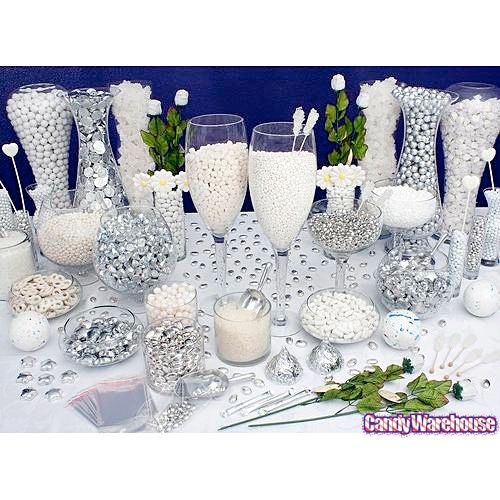 Add silver candy such as:

Silver 1-Inch Gumballs: 850-Piece Case

Wrapped Hard Candy Ovals – Silver: 5LB Bag

Silver Lustrous French Almonds: 5LB Bag

Milk Chocolate Lentils – Silver Grey: 5LB Bag

Foiled Milk Chocolate Balls – Silver: 5LB Bag

Sixlets Mini Milk Chocolate Balls – Silver: 2LB Bag
Or add some icy blue candy:
Here are some blue candies you can add:
Blue Foiled Milk Chocolate Balls: 5LB Bag

Blue Raspberry Gummy Candy: 5LB Bag

Jordan Almonds – Pastel Blue: 5LB Bag

Rock Candy Crystals – Blue Raspberry: 5LB Box

Blue Raspberry Salt Water Taffy: 3LB Bag

Sugar Candy Beads – Baby Blue: 5LB Bag
Candy Warehouse has a tutorial with great instructions for building a candy buffet, including how much candy to buy, what types of containers to use, and how to display the candy. They also give a timetable for ordering and instructions for candy storage prior to your event.
Many venues will provide containers, scoops and servers for a candy buffet, so make sure to ask.  If yours does not, you can purchase the appropriate containers and servers online.
Candy Warehouse sells jars and canisters in a variety of shapes and sizes to hold your candy, as well as scoopers, tongs, bags and cute buckets and pails.
Here are some of the canisters they offer:

Round Glass Candy Canisters Set with Ball Lids: 4-Piece Case

Glass Penny Candy Jars with Chrome Lids – 1/2 Gallon: 4-Piece Case

Just Desserts Pedestal Candy Jars: Set of 3

Glass Candy Jars – 1/2 Gallon: 6-Piece Case
They also sell clear cello bags for collecting candy, as well as takeout containers, pretty printed bags, buckets and pails.
These clear cello bags with white stripes would coordinate beautifully for a winter bar or bat mitzvah.

Clear Cello Candy Bags with White Stripes: 100-Piece Box
These silver bags would also be great for a winter-themed event. They come in several colors to match any decor.

Candy Bags with Handles – Silver: 12-Piece Pack
You can also find canisters and scoopers on Amazon.
This Set of Three Apothecary Candy Jars
is perfect to display goodies: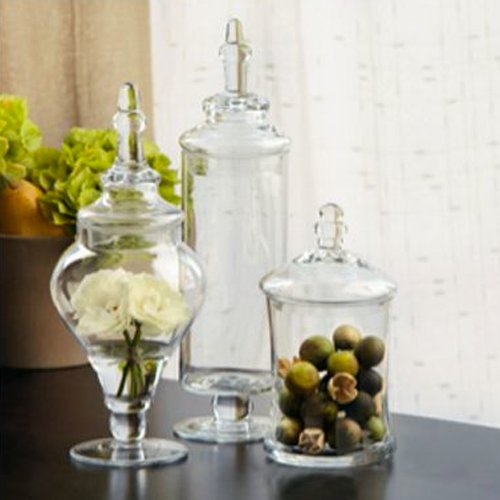 The jars are 8.6, 12.5 and 14.25 inches tall.
If you are looking for smaller jars, here is a set of Three Mini Candy Buffet Jars
: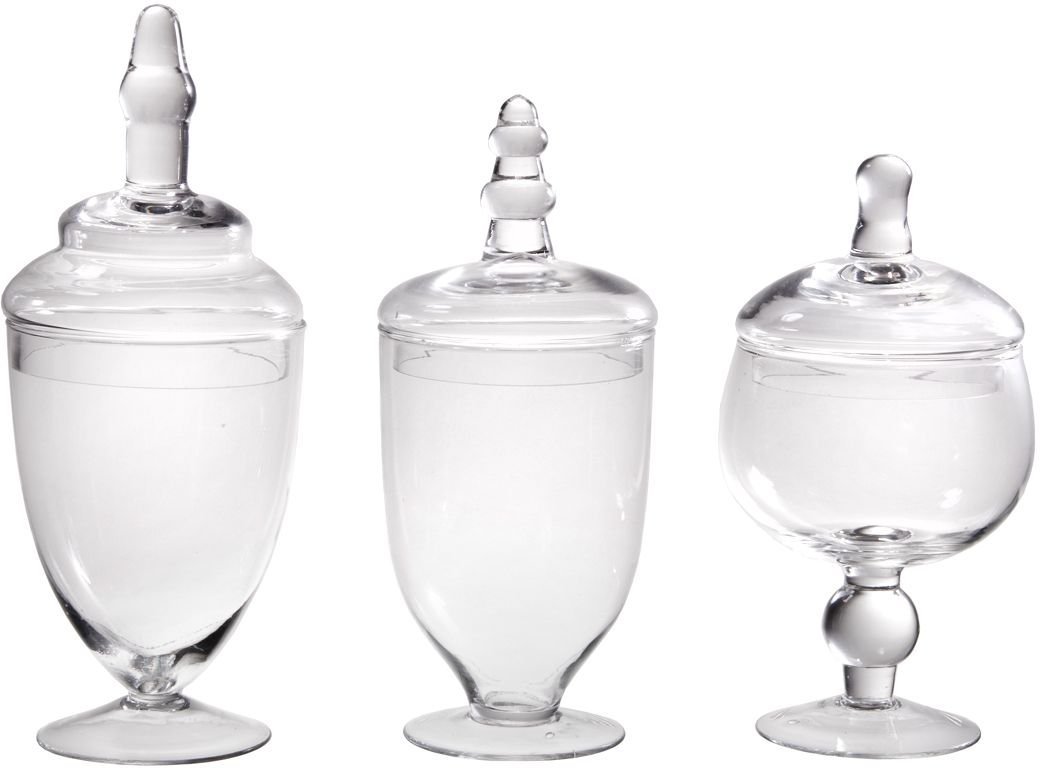 These jars measure 8, 9 and 10.25 inches high. Vary the size and shape of your containers to keep your display interesting.
If you need scoopers for your treats, get this Set of 6 Clear Plastic Candy Scoopers
: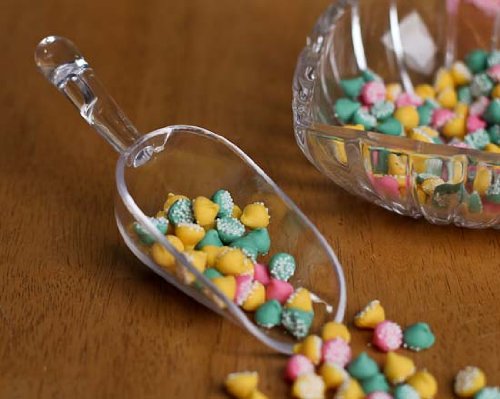 You can also find Metal Scoopers
on Amazon.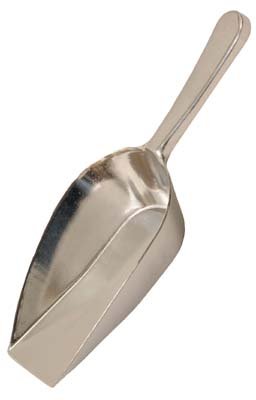 As well as clear cello treat bags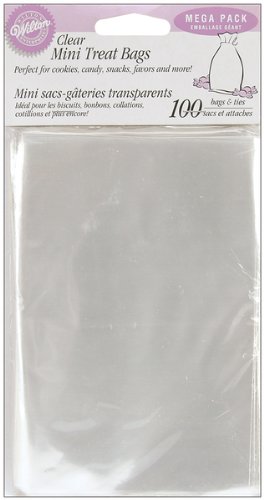 Make your own labels to stick on the treat bags or takeout containers with these Avery Easy Peel Print-To-The-Edge Round Labels
Avery makes labels in several different sizes and shapes; they come with a template for easy formatting and are simple to use. Put your logo, name, or date of your event on your labels and stick one on each treat bag for a special touch! Here are two great winter-themed logos created by Party Favorites: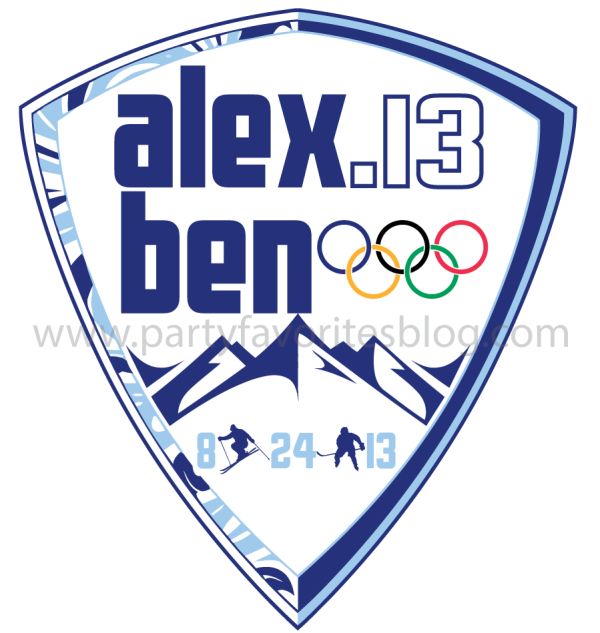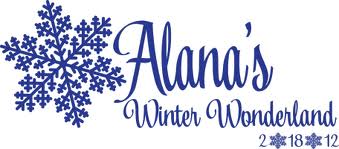 Whether you create your own logo or hire somebody to do it for you, the variety of Avery labels available makes it easy to display your logo on candy bags, as well as create labels for each candy jar or bowl. For more ideas and inspiration for winter-themed events, check out Winter-Themed Bar and Bat Mitzvahs.