Hanukkah (well, this year Thanksgivukkah!) is coming soon, so we give you our Latke Recipe Roundup with links to our favorites. There is a wide variety; we've included recipes for basic latkes, as well as sweet, spicy, and gluten-free options.
Though there are many variations on the traditional latke recipe, the latke purist simply wants shredded potato and onion, fried in oil, no extras. For those who fall into that camp, we give you the Chanukah Potato Latke recipe from the Global Jewish Kitchen.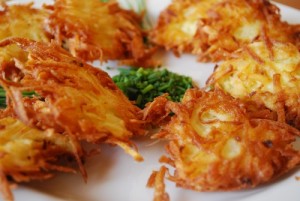 Simple, but delicious. The author also gives some helpful tips such as only working with a few large potatoes at a time so they don't oxidize.
If you prefer your pancakes with sweet potatoes, here is a classic Sweet Potato Latke recipe from Allrecipes.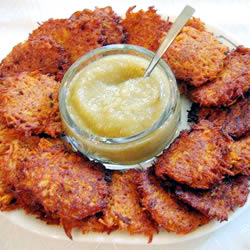 Now comes the fun part – here are some great variations on the traditional potato pancake. These recipes include different vegetables, fruits, cheeses and a variety of spices. Thank goodness there are eight nights of Hanukkah!
Here are our favorite latkes with a twist:
These Spanolatkes from the Food Network incorporate spinach, leeks, feta and dill from Greek spanakopitas. Enjoy them with a dollop of tzatziki.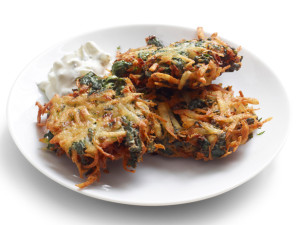 These Cheesy Sweet Potato Crisps from Carrots and Cake incorporate liquid egg whites and are baked, not fried.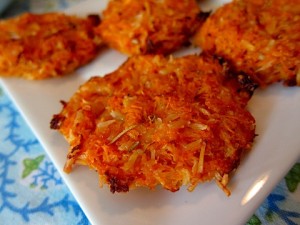 They must be on the healthier side, so enjoy a few extra!
We included these Brie-Stuffed Latkes from No Face Plate in a previous post, but that's because fried potatoes stuffed with brie deserve two posts. Just the way it is.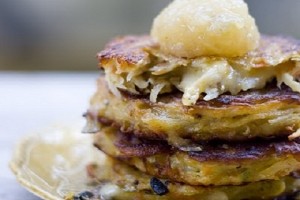 These Brussels Sprouts Latkes from Joy of Kosher call for chopped "Facon," which is kosher dry-cured beef. You can also use turkey bacon. Either gives a great smoky flavor.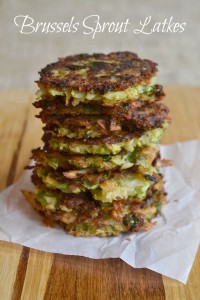 Here is a great recipe from Epicurious for Porcini Mushroom Latkes with Chive Cream.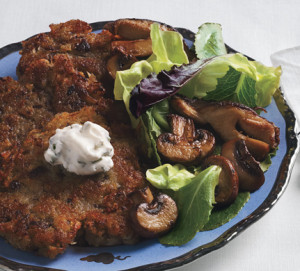 Thanksgiving coincides with the first day of Hanukkah this year; therefore, here is a recipe for Sweet Potato-Apple Latkes with Cranberry Sauce from Rachael Ray that nicely blends flavors from both holidays.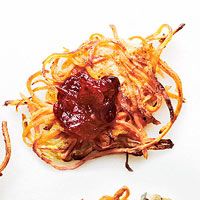 This recipe for Zucchini Latkes from Thanksgivukkah Boston calls for matzo meal instead of flour. Save this recipe to make during Passover too!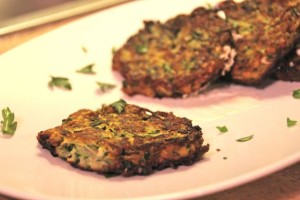 For a spicy twist, we love these Cilantro-Jalapeno Latkes with Chipotle Sour Cream from Ingredients, Inc.: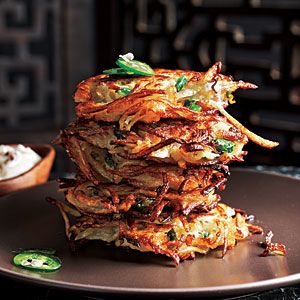 These Gluten-Free Butternut Squash Latkes from Busy in Brooklyn are light and mild and perfect if you or someone in your household cannot tolerate gluten.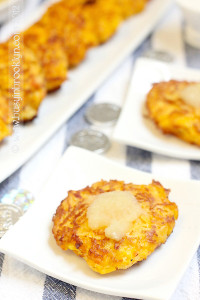 They would be great with the accompanying recipes for Ginger Applesauce and Curried Sour Cream.
And ever since we saw these Potato Latkes Eggs Benedict from What Jew Wanna Eat, we don't know if we want them for dinner the first night of Hanukkah, breakfast on Thanksgiving, or really just every day of Hanukkah this year.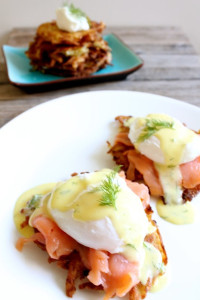 It's hard to beat fried potatoes any day, but top them with poached eggs and lox, and we're in heaven. Our Austin-based Jewitup team like the Longhorns pic too. Hook'em horns to y'all, but please hook us up with some of those Latkes Benedict this year!
For more recipe ideas check out our Pinterest Boards for Hanukkah Recipes and Thanksgivukkah Recipes.