Hockey is a great theme for a bar or bat mitzvah. There are so many fun ways to incorporate hockey paraphernalia into your party decor, invitations and favors. You can also do a fun take on stadium food with upscale burger bars, nacho stations and different food carts. Check out the following photos for inspiration; you can turn your dance floor into a "rink," use pucks as invitations or escort cards, and offer your guests a delicious hot chocolate bar along with dessert!
Start by creating a cool logo for your event. You can use your logo on your invitations, postage, decor, and favors. This hockey-themed logo was created by Party Favorites: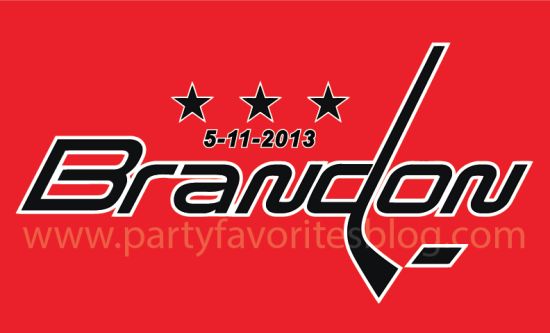 This hockey-themed invitation from Digby Rose uses the bar mitzvah boy's initials in an NHL-like emblem over crossed hockey sticks: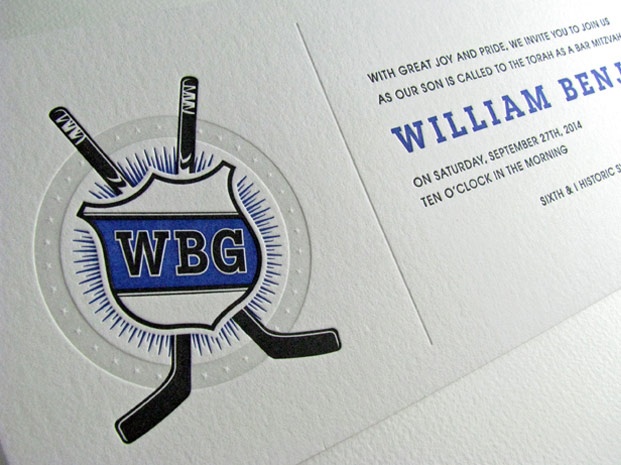 And this hockey themed invitation from Envelop Me features a shot of the bar mitzvah boy in action: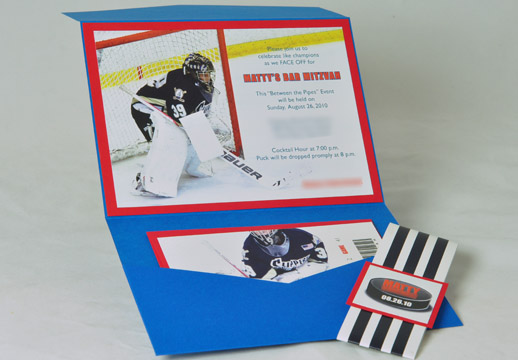 This layered hockey bar mitzvah invitation is available from Etsy: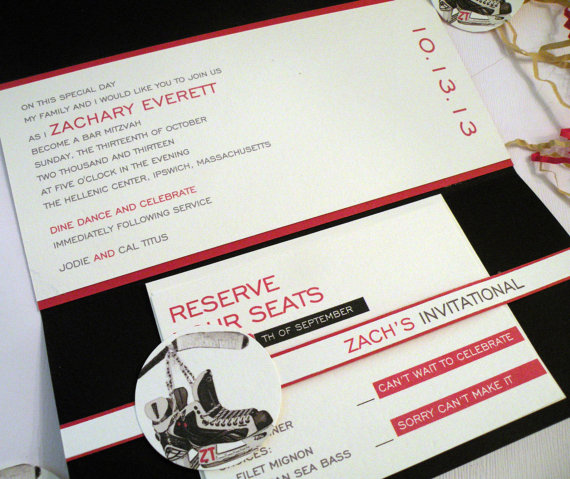 Or have your invitation printed on a hockey puck! These hockey puck invitations from Cute Patootie Creations can be personalized with a custom logo and wording of your choice:
Check out this hockey escort card display featuring a blow-up of Ranger Stadium from Balloon Artistry: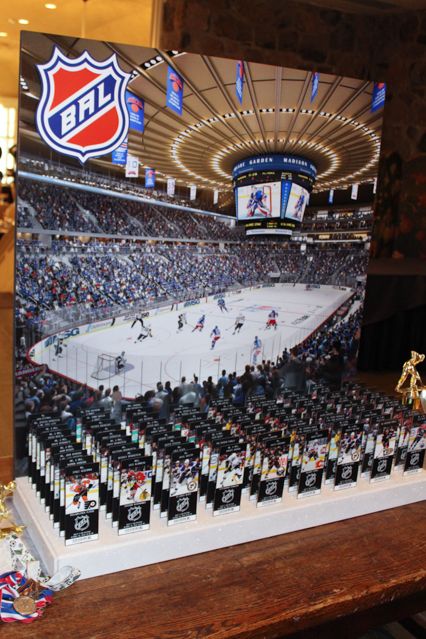 These hockey puck escort cards from Beautiful Blooms were hung on a goal net: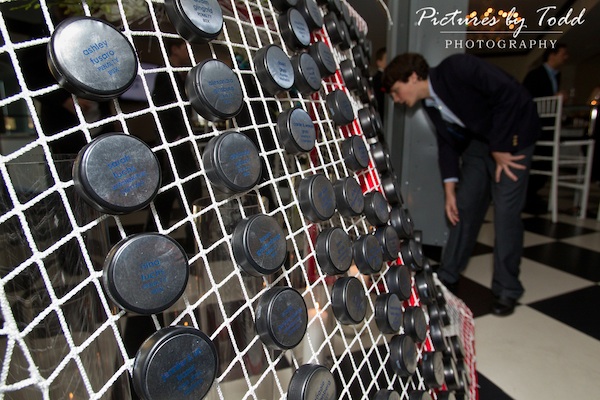 These wooden hockey stick-inspired escort cards featured on Elizabeth Anne Designs were displayed on an air hockey table next to helmets and an all-white arrangement. Instead of numbers, the tables are named after famous hockey players.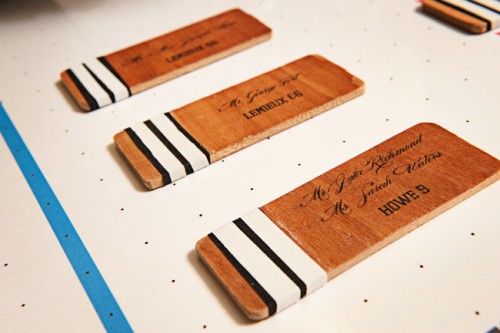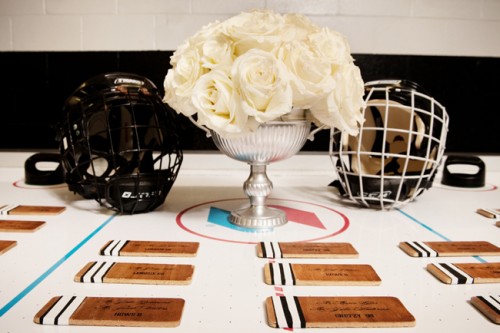 These hockey puck place card holders are available from Awesome Events: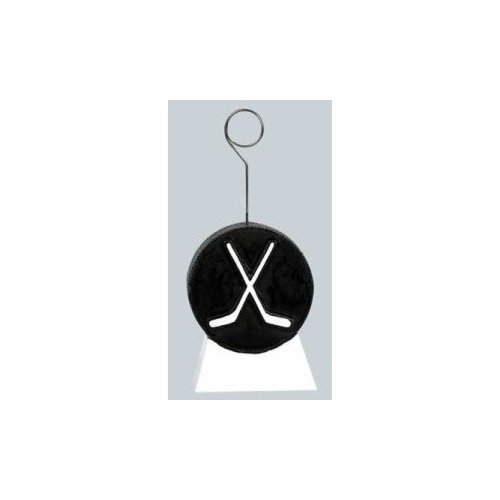 Cassandra Dyane created these Stanley Cup and hockey stick centerpieces: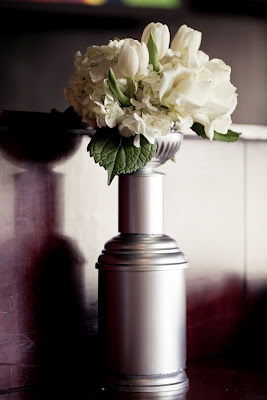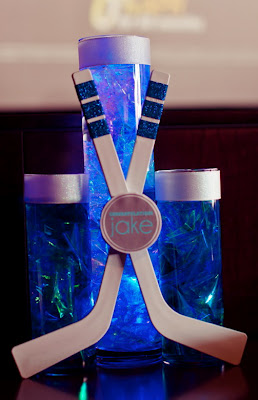 Beautiful Blooms designed these hockey stick "candelabras":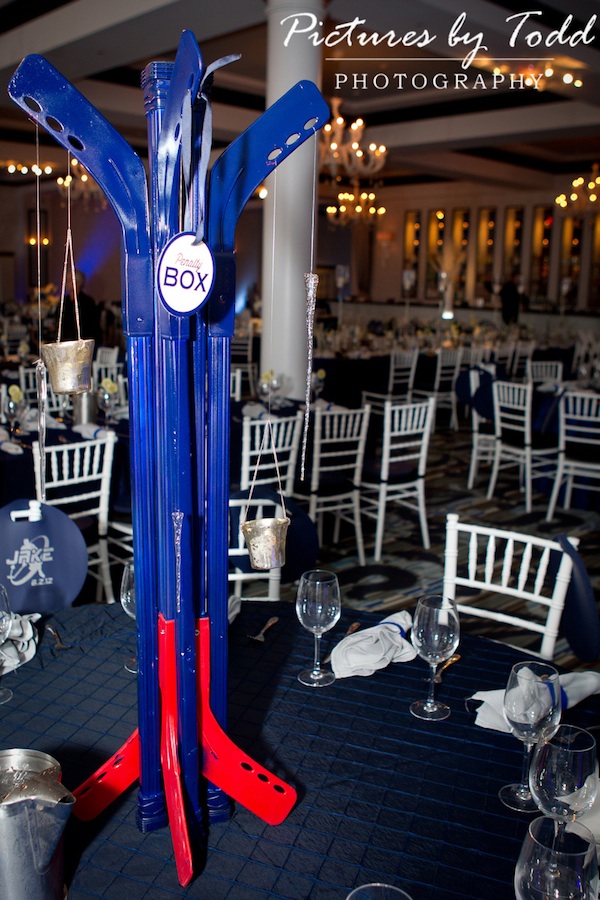 These carved ice hockey centerpieces are from Valerie Miller Events: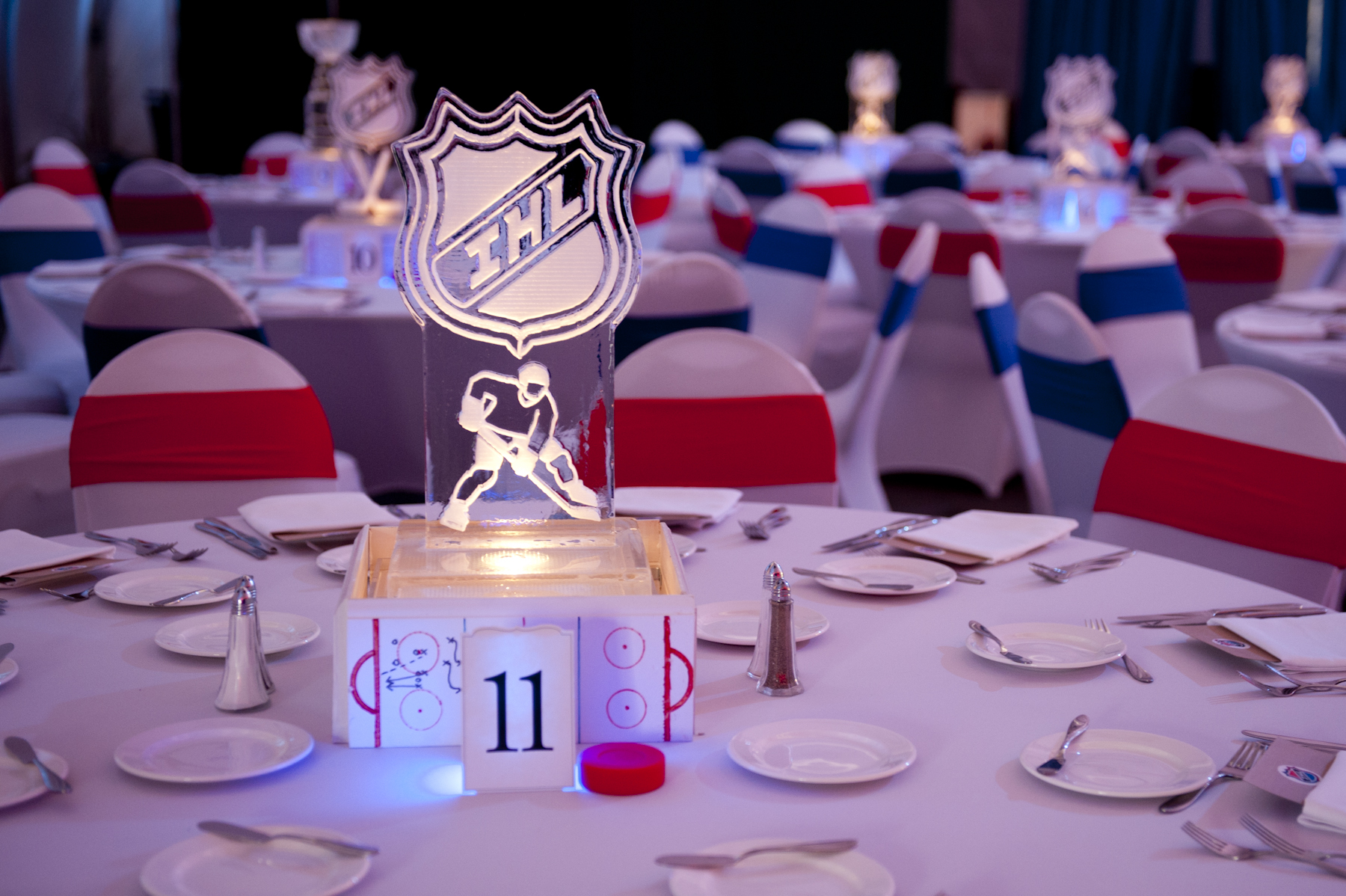 And these centerpieces incorporating hockey sticks and pennants are from Balloon Artistry: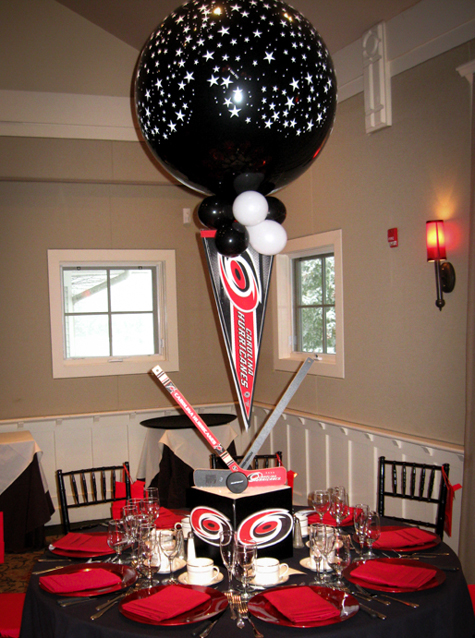 Balloon Artistry also created these custom high-top hockey centerpieces: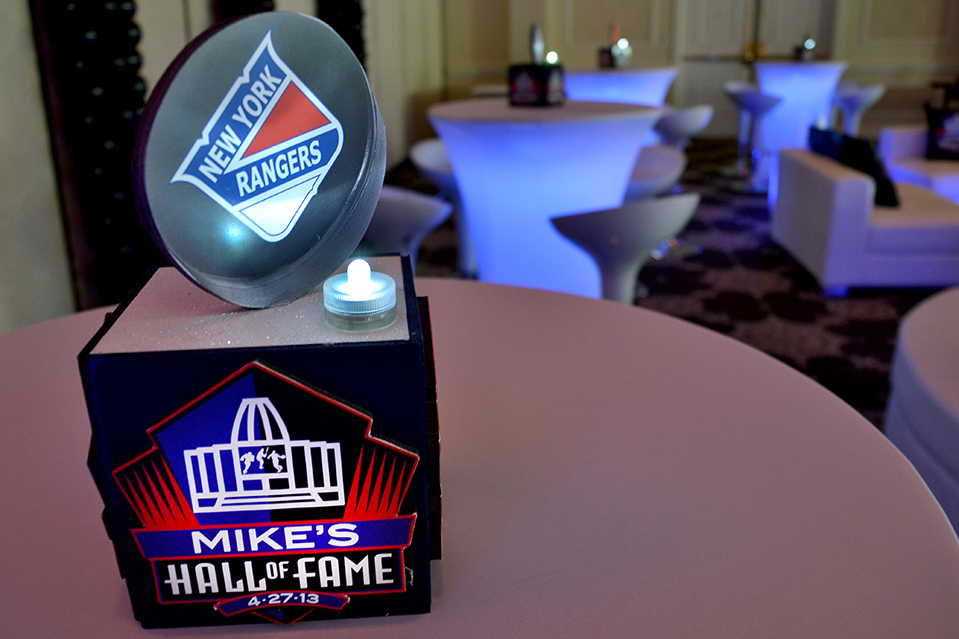 Check out this amazing "hockey rink" dance floor designed by Beautiful Blooms: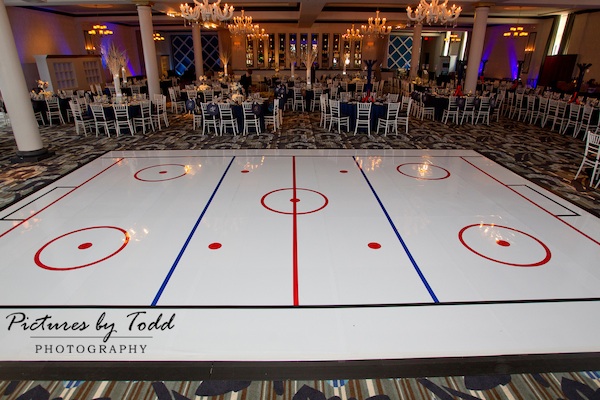 And this fabulous hockey rink dance floor with a custom jumbotron was created by Valerie Miller Events: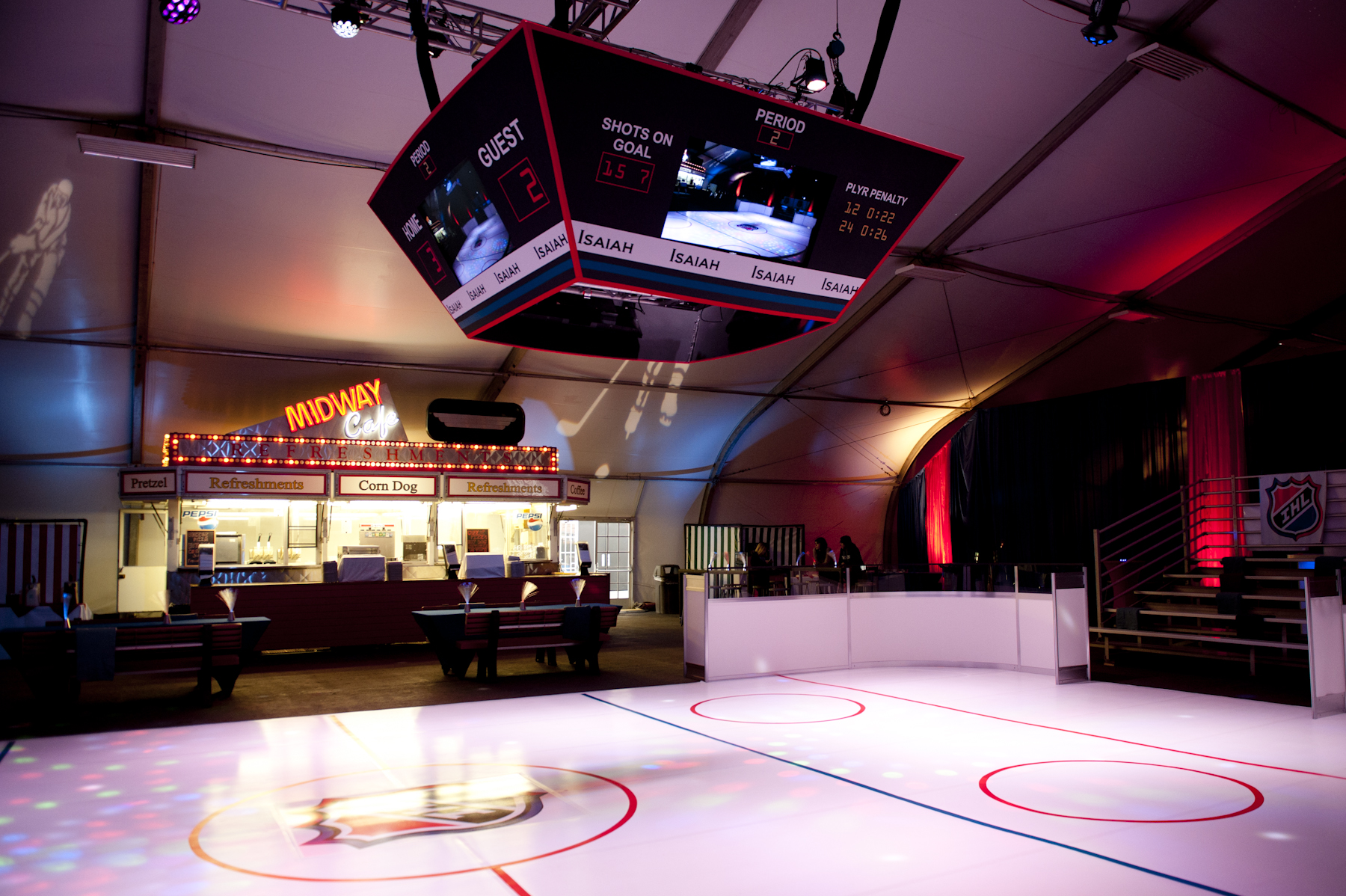 Serve upscale stadium food like sliders, hot dogs, pizza and giant pretzels. Serve them buffet style or you can rent a real hot dog cart from companies like Bergen Party Rentals: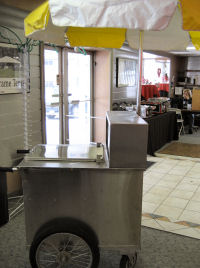 You can also rent a pizza truck or cart, either for guests to enjoy inside during the cocktail hour, or set up outside for guests to take slices home as they are leaving your party. Companies and restaurants like Eddie's Pizza rent carts and trucks for events: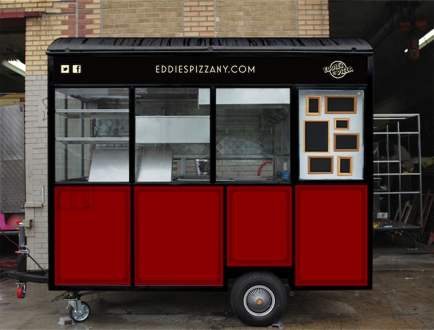 Nacho bars are great too, such as this one from The Wedding Chicks: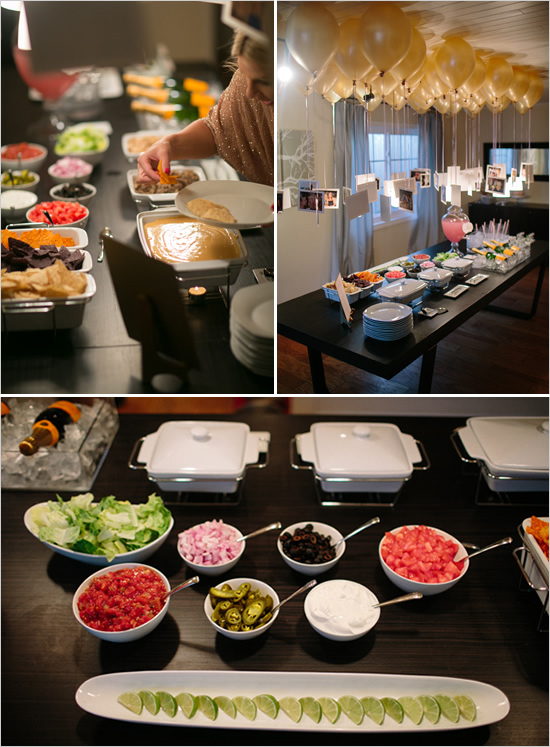 Set up a hot chocolate bar like this one featured on Wedding Bee: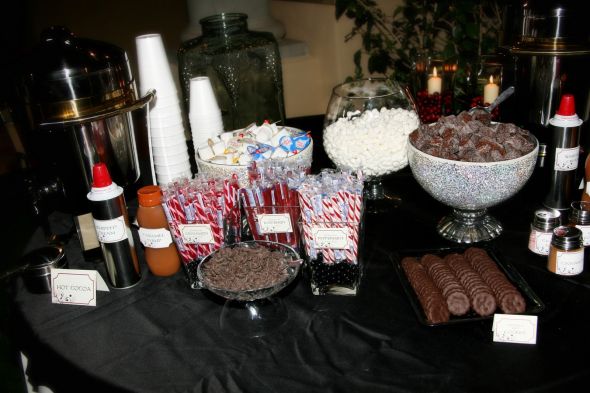 Rent hockey-themed games for your guests' enjoyment. Radar Hockey, available from companies including Amusitronix, lets guests test how fast they can shoot a hockey puck.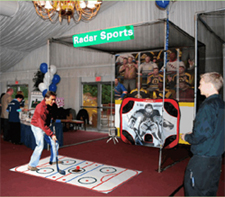 Give your guests personalized hockey mint tins like these from Shindigz: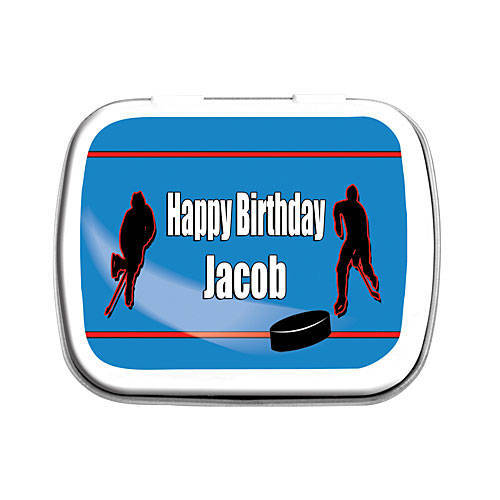 For dessert, this fantastic hockey themed cake is from the Pink Cake Box: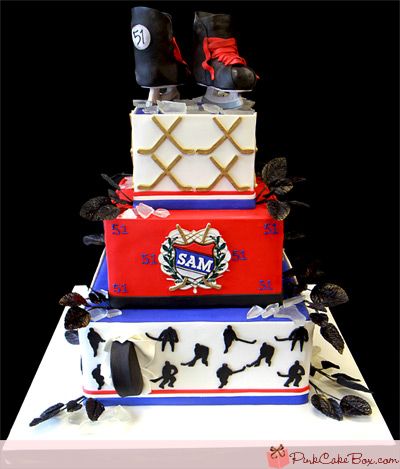 And this cool hockey jersey cake was featured on Cake Central: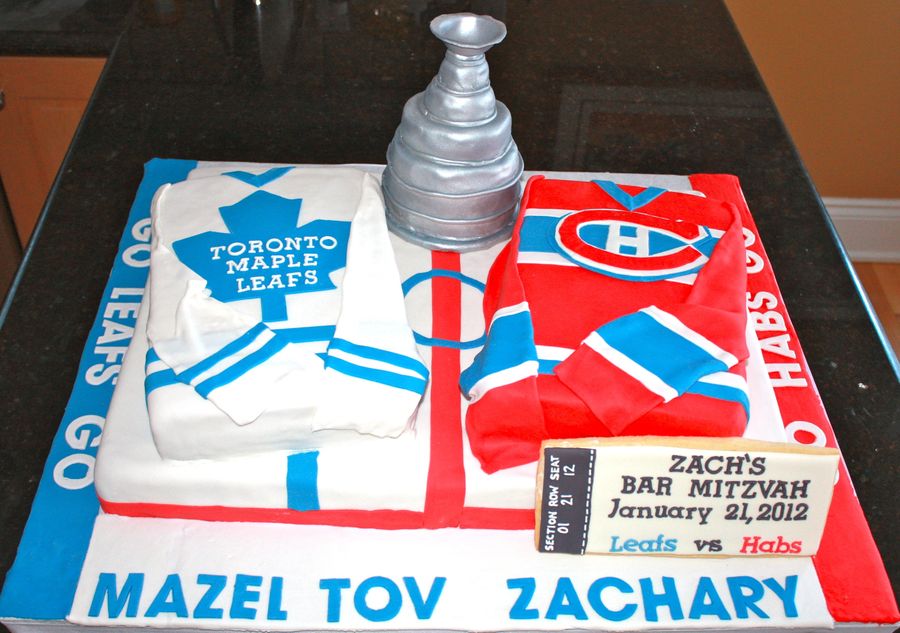 This hockey puck cake was also featured on Cake Central: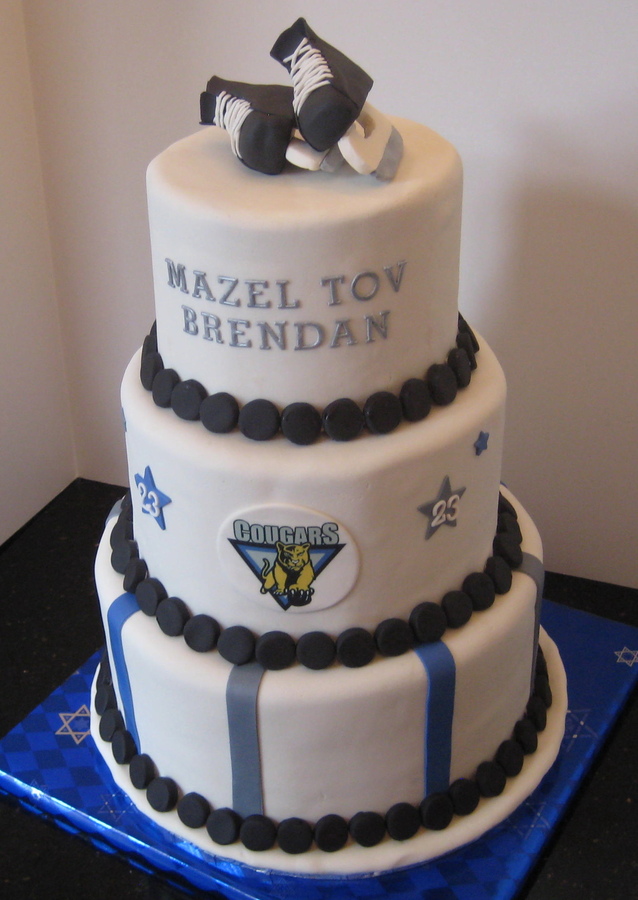 Have your guests sign a hockey-themed sign-in board like this one from Balloon Artistry: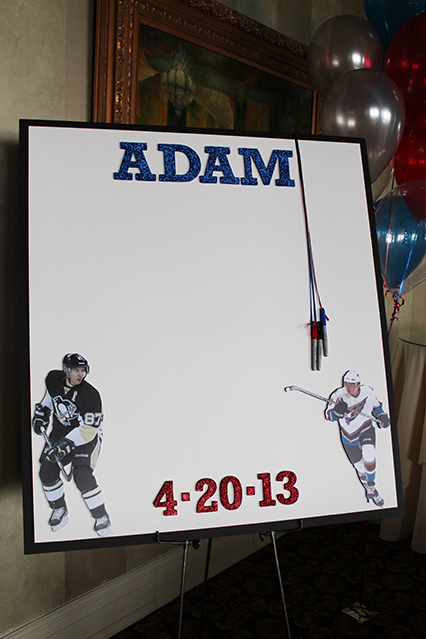 Or have your guests sign a custom hockey jersey with your name and birth year or year of your bar or bat mitzvah on the back. You can order custom hockey jerseys from companies like AI Ross. Here is an example seen on Mitzvah Market: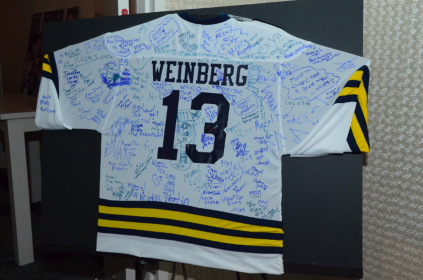 Give your guests personalized hockey water bottles like these from Cutie Patootie Creations: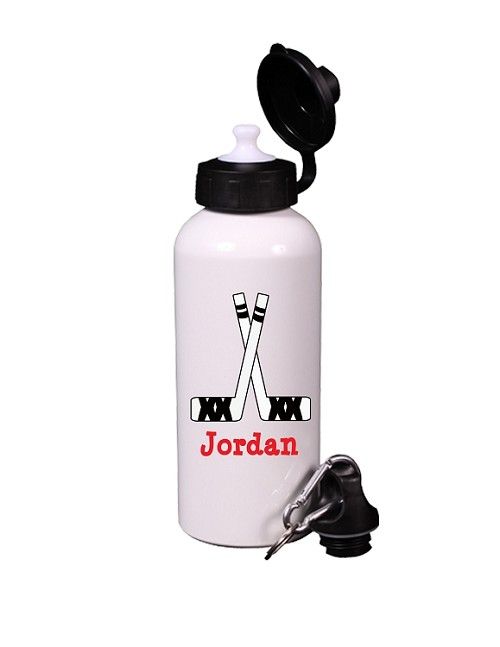 Personalized fleece blankets like these from Cool Party Favors would be great to keep toasty at the rink: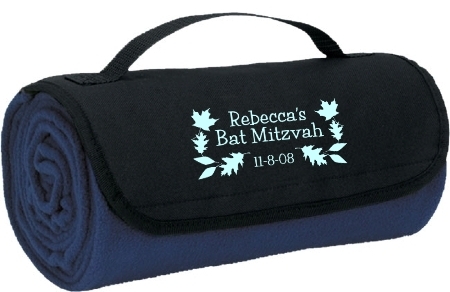 Or personalized beanies like these from Bar Mitzvah Favors will keep your guests warm all winter: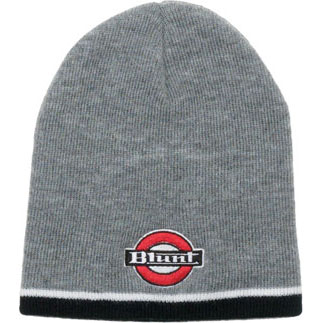 Send your guests home with individually wrapped chocolate hockey pucks like these from Cool Party Favors: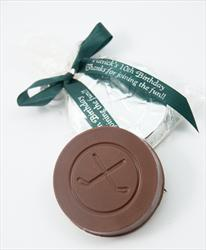 Or give out individually wrapped hockey cookies like these from Sweet Creations by Debbie: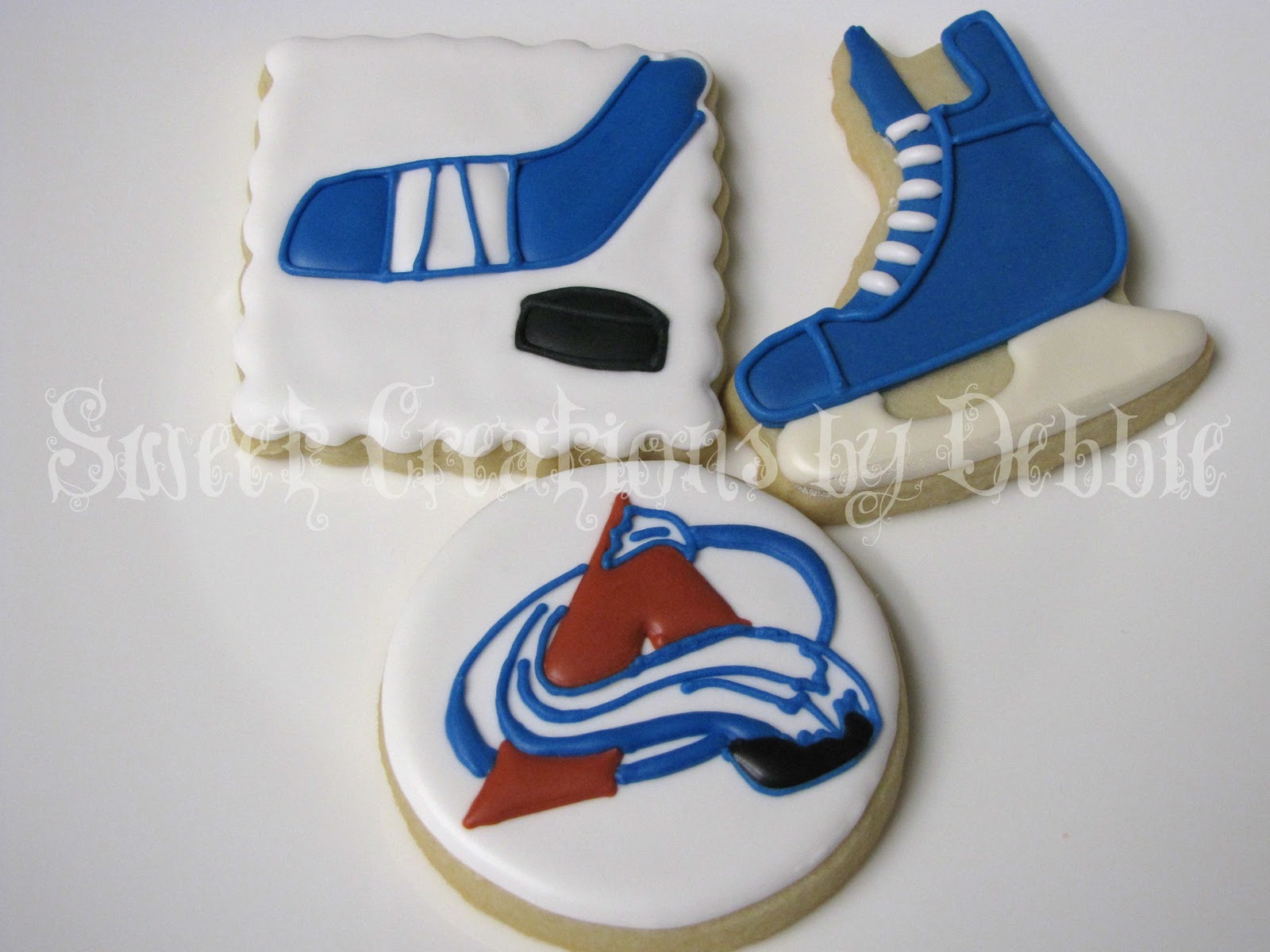 These hockey skate cookies are available on Etsy: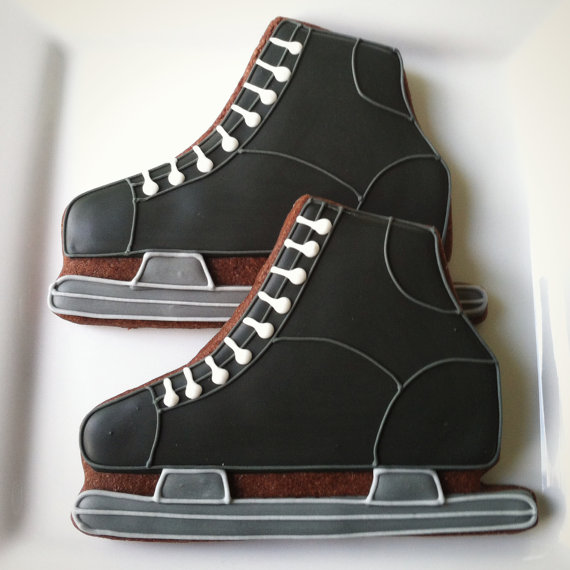 For more ideas and inspiration, see our Pinterest board for Hockey Theme Bar and Bat Mitzvah Ideas.