Wherever You Are Wandering this Passover, Take Along This Travel Folding Seder Plate
If you will be traveling on Passover or are just looking for a cool new Seder plate, we love this Hand-Painted Foldable Seder Plate
from Yair Emanuel: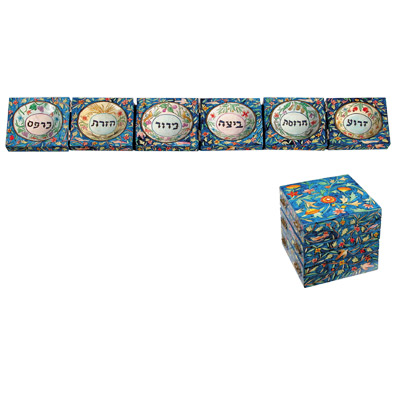 It is beautiful enough for the fanciest Seder table, yet folds up to fit in any suitcase.
Made of wood, with a hand-painted design of flowers and birds on the outside and the "Seven Species of Israel motif – wheat, barley, pomegranates, dates, figs, olives, and grapes – with the name of the ingredient that goes in each respective dish on the inside.
Lacquered to create a shiny and durable waterproof finish. Dimensions when open: 29″ x 4.7″ x 1″; when closed: 4.7″ x 4.7″ x 4.7".