Tips for Make-Ahead Meals for Shabbat, Plus an Easy and Delicious Brisket Recipe
Maybe one of your New Year's resolutions is to simplify more in your life, or perhaps to cook more homemade dinners, or maybe it's to begin celebrating Shabbat with your family.  Well, if any of those apply, then these tips for make-ahead Shabbat (and anytime) meals from Joy of Kosher are sure to help you out!
In the article, Jamie Geller, the "Queen of Kosher," shares lots of great tips and recipes for beef and chicken dishes that can be prepped (or in some instances fully cooked) in advance and then easily reheated for dinner, as well as soups, sides and desserts.
We are fans of brisket for the same reason – it is easy to cook a day early, then let it sit in the fridge and reheat before serving. The beauty of brisket is that it is usually even better after a day or two, when the flavors have time to meld.  You can also cook your vegetables along with the meat.  We use carrots, baby potatoes and onion, but you could add peppers as well.
Here is our favorite brisket recipe:
Jewitup Super-Easy and Amazingly Delicious Brisket
Ingredients:
Brisket – your preference if first or second cut.  Ask butcher how big depending on number of guests, ratio usually ¼ lb. to ½ lb. per person.
2 cans Manischewitz or Rokeach Tomato Sauce with Mushrooms
1 packet Lipton onion soup mix (or two if very large brisket)
Carrots (can be 4-5 large peeled and cut in chunks, or just use a bag of baby carrots)
Potatoes (again, 3-4 large peeled and cut in chunks, or simplify and just toss in a bag of baby potatoes)
Onion, sliced thinly
Directions:
Preheat oven to 425 degrees.
Place brisket in a large pan and sprinkle onion soup mix over brisket.
Lay onion slices atop brisket.
Spread carrots and potatoes all around brisket in pan.  It's okay if they pile up, or lay on edges of brisket.
Pour tomato sauce and two cans of water over brisket.
Cook uncovered for 15 minutes, then reduce heat to 325 degrees.  Cover tightly with foil and cook covered for 4-5 hours until liquid cooks down and meat is very soft.  It should cut easily. Check occasionally and scoop the liquid up back over the meat to keep it moist.
Arrange in the center of a large platter in slices with carrots, potatoes and onion around the outside.
This dish looks great and it will be so tender it falls off of your fork!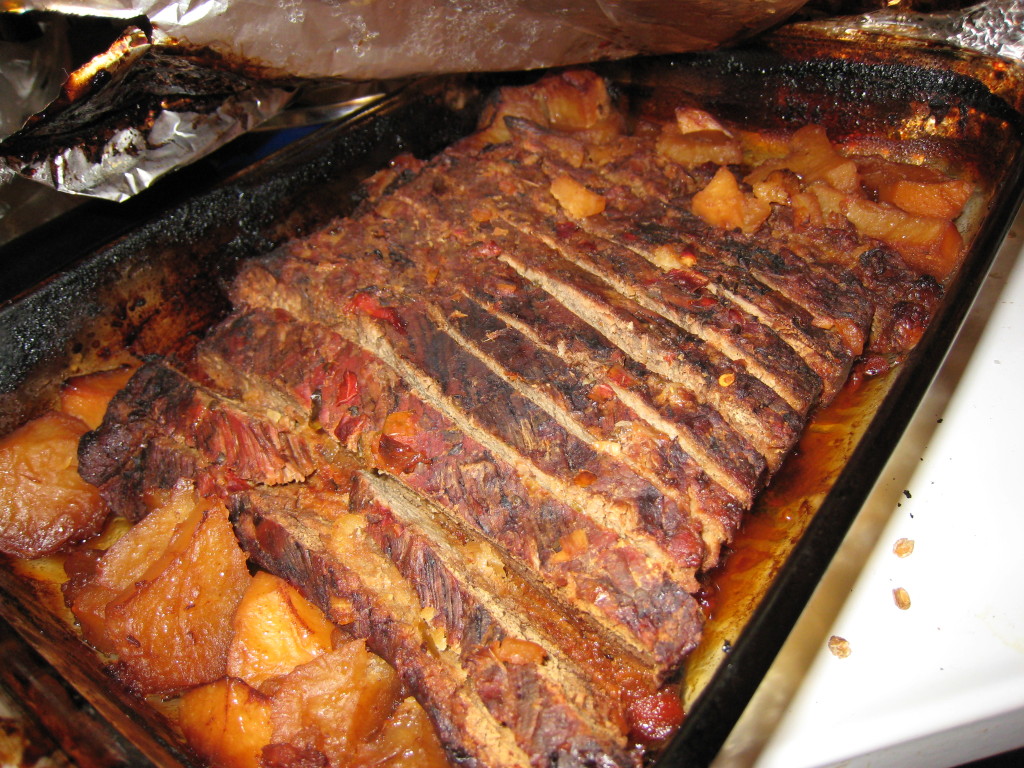 Shabbat Shalom!