The Modern Jewish Mom's Guide to Shabbat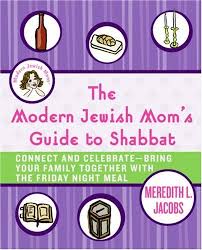 Resolved to start celebrating Shabbat this year? Get some great tips and advice from The Modern Jewish Mom's Guide to Shabbat: Connect and Celebrate–Bring Your Family Together with the Friday Night Meal
.
The non-judgmental book is appropriate for Reform and Conservative Jews.  It is also great for beginners looking to be more observant, those in interfaith marriages or for someone who would like to reconnect with Judaism and/or make Shabbat more enjoyable for her own family.
The book contains lots of helpful ideas, recipes and explanations, and easy ways to incorporate Shabbat into your own modern, fast-paced life.
The author, Meredith Jacobs, has a monthly column on family and parenting that appears in Jewish newspapers in Baltimore, Los Angeles, Cleveland, Phoenix, and Detroit.
You can buy it here
on Amazon.
Shabbat Shalom!