Need a gift for a beer connoisseur? Look no further than He'Brew Beer, a division of the Shmaltz Brewing Company.
With varieties such as Funky Jewbelation, David's Slingshot and Genesis, you may think this beer is not to be taken seriously; however, in 2013 Shmaltz was ranked as one of the "Top 100 Brewers in the World" by RateBeer.com. Shmaltz also won 9 Gold and 5 Silver Medals in the Word Beer Championships in 2012.
According to the Shmaltz website, the company was established in San Francisco in 1996, and the first batch of 100 cases of HE'BREW Beer® were bottled, labeled, and delivered by hand. Shmaltz has now sold more than ten million bottles of beer to date.
Shmaltz even opened a brewery in New York State near Albany this past May, and offers tours and a tasting room. Click here to find a retailer or distributor of He'Brew in your area.
Perfect for bar mitzvahs, weddings, circumcisions … or anytime!
If you would like to learn more about the origin of He'Brew and the Shmaltz Brewing Company, purchase a copy of Craft Beer Bar Mitzvah: How It Took 13 Years, Extreme Jewish Brewing, and Circus Sideshow Freaks to Make Shmaltz Brewing an International Success
: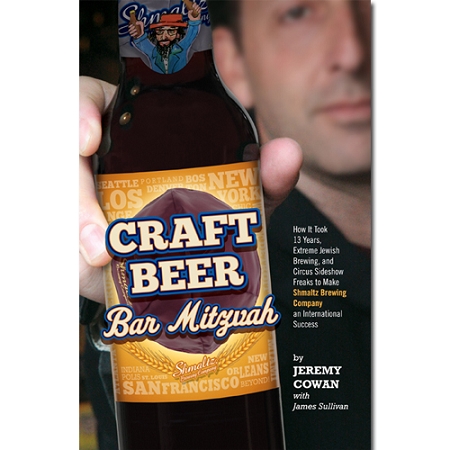 The description reads "In this witty and compelling tale of how the nation's first and only Jewish Celebration beer came to fruition, founder Jeremy Cowan tells the story of Shmaltz Brewing's evolution from an inside joke into a thriving and award-winning craft brewing company. Divulged are the small-business challenges and marketing strategies that helped Cowan go from hand-squeezing pomegranates and delivering beer in his grandmother's Volvo to producing two of the most respected and unique craft beer brands in America: He'brew the Chosen Beer and Coney Island Craft Lagers. Included alongside the sage advice for entrepreneurs and the humorous personal anecdotes are suggested beer pairings for each chapter, a hangover rating system, and 16 pages of full-color photograph collages."
Available on Amazon.
Perfect for any (Jewish) beer lover!