Send Some Sweet Treats and Good Fortune this Hanukkah
Here are some great edible Hanukkah gift ideas available online.  You can either order for yourself to enjoy or give as party or hostess gifts, or have them delivered to someone special.
Check out this cool Giant Hanukkah Fortune Cookie from Fancy Fortune Cookies: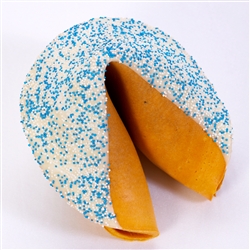 Each kosher cookie weighs over one pound, and measures 5″ tall and 7″ wide, with a custom foot-long fortune cookie message inside!  Arrives individually wrapped in cellophane inside a gift box.  Send to someone special or use as party favors or a fun centerpiece that can be eaten for dessert!  This would also make a fabulous and fun hostess gift with a personalized message for your host.  $29.95 per cookie.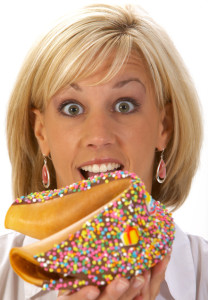 Wow! There is a lot of good fortune inside of that cookie!
Fancy Fortune Cookies also offers regular-size fortune cookies dipped in various shades of blue chocolate or sprinkled with blue sanding sugars: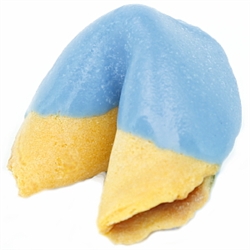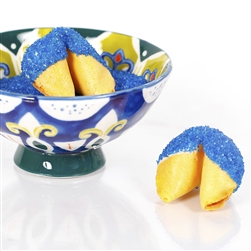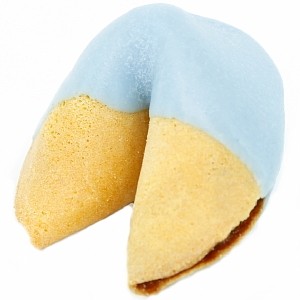 You can mix and match the different colors and sugars to create a pretty assortment, as well as provide up to five different custom fortune messages to be placed inside the cookies.  A mix of different blues and whites would look beautiful on a Hanukkah dessert table, and you could have a lot of fun creating the different fortune messages for your party guests.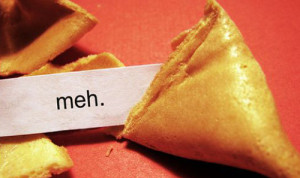 You can do better than that!
Instead of traditional black and white cookies, send a bag or two of blue and White Hanukkah cookies from the Challah Connection: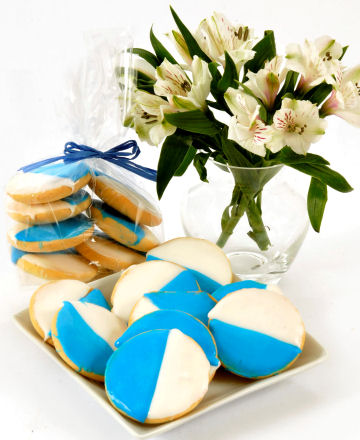 Each bag contains 8 mini blue and white cookies straight from the Lower East Side bakery.  These would also be great favors to give out at a Hanukkah party, or a fun addition to a cookie platter.  $12.99 per bag.
The Challah Connection also makes kosher gift baskets for holidays that are perfect to send to college students or grandparents who are far away.
The Hanukkah Breakfast Basket contains a full-sized challah, a jar of Sarabeth's chunky apple spread, 2 mini bundt cakes, cinnamon-flavored roasted chickpeas from The Good Bean, and 2 packets of hot cocoa.  It is packaged on a Hanukkah-themed melamine platter.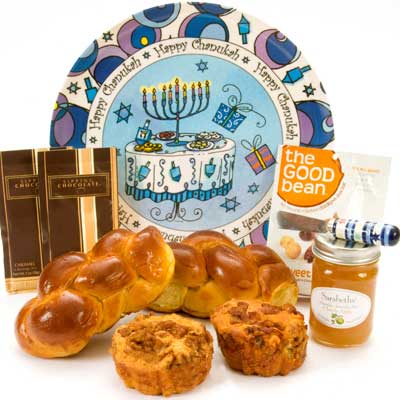 They offer several other Hanukkah-themed baskets and platters.  College students would enjoy the Texas Dreidel Play and Nosh Platter: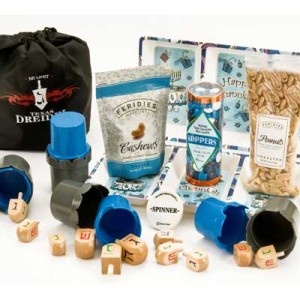 Each platter contains the No Limit Texas Dreidel Game along with cashews, peanuts and Koppers blue and white lentils (similar to m&ms).  It is packaged on a melamine "Happy Chanukah" nosh platter.
Your recipients will be grateful for their good fortune when they receive your fabulous gifts!