It's Za'time for Zaatar and Olive Challah!
It's Friday and that means time for challah! With the weather turning cold, we are thinking about warmer climates and Mediterrean cuisine. This Zaatar and Olive Challah from the Joy of Kosher satisfies our Mediterranean cravings. Zaatar (also known as za'atar or za'ahtar) is a mixture of sumac, sesame seed and herbs frequently used in Middle Eastern and Mediterranean recipes. It can also be mixed with olive oil and spread on bread or toast. Yum!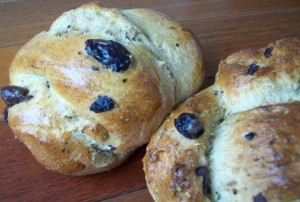 You can find zaatar at many high-end grocery stores and spice merchants, or it can be ordered online from retailers including The Spice House and Dean & DeLuca. You can also make your own zaatar blend using these instructions from Bon Appetit.  Simply mix 1 tablespoon each of chopped fresh oregano, sumac, ground cumin, and sesame seeds.  Stir in 1 teaspoon each of kosher salt and freshly ground black pepper.  It can be kept for up to two weeks in an airtight container.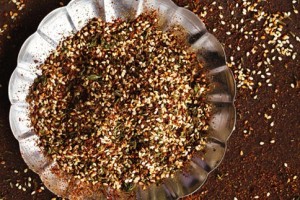 Zaatar and Olive Challah adapted from the Joy of Kosher
Yield: 1 Large Loaf
Ingredients:
1 packet active dry yeast
2 cups whole wheat flour
1 3/4 cups all-purpose flour
3/4 cup warm water
3 large eggs
1/2 cup extra virgin olive oil
1/4 cup sugar
1 1/2 teaspoons salt
1/4 cup coarsely chopped olives (Kalamata or green)
1 tablespoon zaatar
Directions:
In the bowl of a food processor with a dough blade combine the yeast and 3/4 cup of the all-purpose flour.
Add the warm water and pulse until smooth. Let the flour and yeast mixture stand, uncovered, for 10 to 15 minutes, until the mixture is foamy.
Add 2 of the eggs, oil, sugar and salt, pulse until smooth. Add the whole wheat and remaining all-purpose flour, and pulse, until the liquid ingredients are incorporated and the dough holds together in a ball.
Run the food processor for 5 more minutes to knead the dough. If it looks too sticky, sprinkle with more flour.
Place the kneaded dough into a large clean ziplock bag greased and sprinkled with flour and place in a warm, draft-free spot.
Allow the dough to rise until doubled, about 1-1/2 to 2 hours.
Punch down the dough. Place the dough onto a lightly floured surface, and pat into a large rectangle.
Sprinkle evenly with the zaatar and olives. Fold the dough in thirds, and then in half to contain the seasonings, then knead until the zaatar and olives are well integrated.
Line a baking sheet with parchment paper. For 1 large braided challah, divide the dough into 3 equal pieces. For 2 smaller challahs, divide the dough into 6 equal pieces. For rolls, divide the dough into 10 to 12 pieces.
Roll and shape the dough pieces with your hands to form ropes.  The ropes should be about 10 to 12 inches long for a large challah, 8 inches long for smaller challahs, and 4 to 5 inches long for rolls.
Once shaped as desired, cover with plastic wrap and allow to rise until doubled, about 1 1/2 hours.
Preheat the oven to 350° degrees.
Make an egg wash by mixing together the last egg and 1 to 2 teaspoons of water. Using a pasty brush, brush the loaves or rolls with the egg wash.
Bake the challah in the preheated oven, until the loaves or rolls are well browned and glossy, and make a hollow sound when tapped on the bottom.
Bake rolls for approximately 15 to 20 minutes, small challahs for 30 to 35 minutes, and a large challah for 40 to 45 minutes.
Cool on a rack.
If you have any leftovers, enjoy the next day with hummus or make delicious grilled chicken or vegetable panini with eggplant, squash, onion, and peppers.
If you would like to skip the braiding process, get yourself The Kosher Cook Royal Challah Silicone Baking Pan
: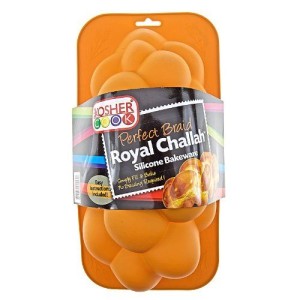 Just fill the pan with your favorite challah dough and bake. It is also great for making gluten-free challahs and easy to clean.
Also available is The Kosher Cook Royal Challah Small Size Silicone Pan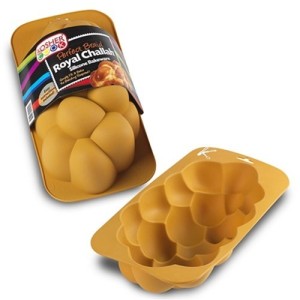 It is the perfect size for making challah for just 1 or 2 people.
And for challah rolls there is The Kosher Cook Deluxe Royal Chalets/Rolls Silicone Baking Pan
: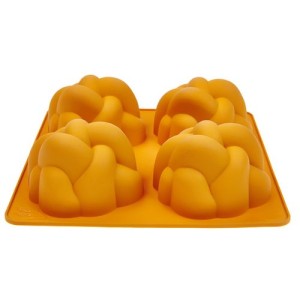 No one will be able to tell that you didn't braid them yourself.
These also make great gifts for the baker.
Shabbat Shalom!