Give a Holler For a Healthy Challah!
If you are looking for a healthier challah option this Shabbat, here is a great recipe for Honey Whole Wheat Challah, adapted from Allrecipes. It is a bit denser than regular challah because of the whole wheat flour, though just as tasty. If you like a sweeter challah you can use more honey, and even add some honey to the egg wash.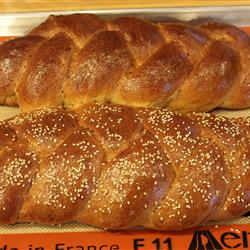 Honey Whole Wheat Challah
Adapted from Allrecipes
Yield: 3 loaves
Ingredients:
For Bread:
2 teaspoons active dry yeast
2 1/8 cups of warm water (110 degrees F/45 degrees C)
3 cups bread flour, or more if needed
1/3 cup vegetable oil
1/3 cup honey, or more to taste
3 eggs
2 teaspoons salt
3 cups whole wheat flour, or more if needed
For Egg Wash:
1 egg
1 teaspoon water
1/4 cup sesame seeds
Directions:
In a large bowl, mix yeast, warm water and 1 cup of bread flour into a thin batter, and let stand until the mixture shows frothy bubbles, about 10 minutes.
Stir in vegetable oil, honey, 3 eggs, and salt until well combined.
Beat in 2 more cups of bread flour and the whole wheat flour, alternating flours by cupfuls, until the dough is too stiff to stir in more flour.
Turn the dough out onto a floured surface, and knead until smooth and elastic, about 10 minutes, adding more flour if needed to form a slightly sticky dough. Form the dough into a round shape.
Lightly oil a bowl, place the dough in the bowl, and turn the dough over a few times to oil the surface. Cover the bowl with plastic wrap or a plastic bag, and let rise in a warm, draft-free place until doubled, 1 to 2 hours.
Punch down the dough, knead it a few times to remove some of the bubbles, and cut it into 3 equal-sized pieces. Cut the first piece into 3 equal parts. Set the rest of the dough aside under a cloth to prevent drying out while you braid the first loaf.
Working on a floured surface, roll the small dough pieces into ropes about the thickness of your thumb and about 12 inches long. Ropes should be fatter in the middle and thinner at the ends.
Pinch 3 ropes together at the top and braid them.
Starting with the strand to the right, move it to the left over the middle strand so that it becomes the new middle strand.
Take the strand farthest to the left, and move it over the new middle strand.
Continue braiding in this manner, alternating sides each time, until the entire loaf is braided. Pinch the ends together and fold them underneath.
Repeat for the other 2 loaves, then place them all on a baking sheet lined with parchment paper.
Let rise again until doubled, 45 minutes to 1 hour.
Preheat your oven to 350 degrees.
Whisk your last egg with 1 teaspoon of water in a small bowl, and brush the egg mixture over the braided loaves. Sprinkle with sesame seeds.
Bake in the preheated oven until the tops are a deep golden brown and the loaves sound hollow when tapped on the bottom, about 40 minutes.
Cool on a rack before slicing.
Serve your challah in this beautiful Wild Lace Challah Basket by Talila Abraham. It is available from the Jewish Museum.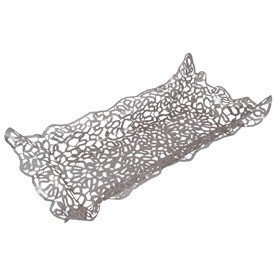 The artist recreates traditional lacework in modern metal. This piece is included in Design Edition JM, a curated selection of modern and contemporary Jewish ritual objects by extraordinary designers commissioned and collected by The Jewish Museum.
Measures 17 by 9 inches. Made is Israel.
Here is a gorgeous Wood and Sterling Silver Challah Board
: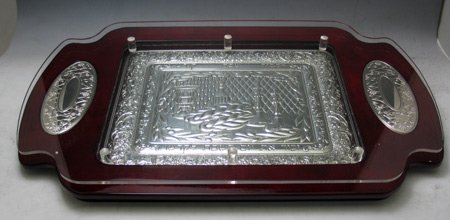 Designed with images of challahs, candlesticks and a wine glass. Covered with lucite.
Made in Israel, measures 19 by 15 inches.
Also available in 22 by 14 inch size
.
Coordinate with this beautiful Challah Candle Lighter
. It would also make a great hostess gift.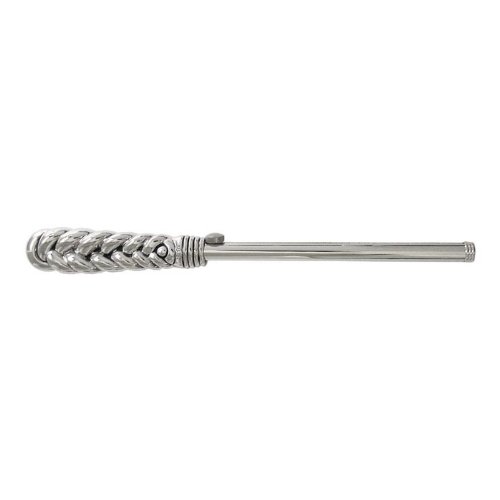 Made in Israel.
Shabbat Shalom!