Challah Back to the Kitchen Girl, It's Shabbos Time!
It's Friday and that means it's almost time for Shabbat – and challah! This week we present a delicious recipe for Fig, Olive Oil and Sea Salt Challah from the Smitten Kitchen. We can't decide if we're more excited about eating this with dinner, in a delectable french toast tomorrow morning, or maybe for heavenly grilled cheese sandwiches over the weekend (brie and honey, perhaps?)… However you choose to enjoy it, give this challah a try!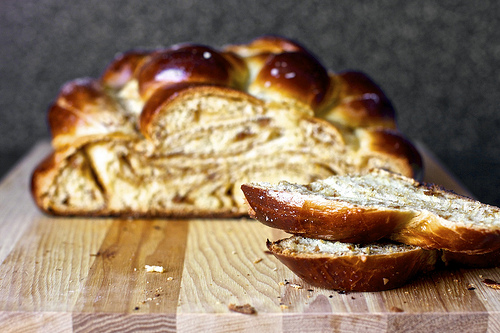 Fig, Olive Oil and Sea Salt Challah
Adapted from the Smitten Kitchen.
Yield: one large loaf.
Ingredients:
2 1/4 teaspoons (1 packet — 1/4 ounce or 7 grams) active dry yeast
1/4 cup plus 1 teaspoon honey
1/3 cup olive oil plus extra for coating bowl
3 large eggs
2 1/8 teaspoons sea salt plus extra for sprinkling over challah
4 cups all-purpose flour
1 cup roughly chopped dried figs
1/8 teaspoon orange zest
1/4 cup orange juice
black pepper
Directions:
To Make Dough Using a Stand Mixer:
Whisk the yeast and 1 teaspoon honey into 2/3 cup warm water (110 to 116 degrees), and let it stand for a few minutes, until foamy.
In a large mixer bowl, combine the yeast mixture with remaining honey, the olive oil, and two of the eggs.
Add two teaspoons of the sea salt and the flour, and mix until the dough begins to hold together.
Switch to a dough hook, and run at low speed for 5 to 8 minutes.
Transfer the dough to an olive-oil coated bowl, cover with plastic wrap, and set aside for approximately one hour or until the dough is almost doubled in size.
To Make the Dough by Hand:
Proof the yeast as directed above.
Mix in the remaining honey, the olive oil, and two of the eggs with a whisk.
Add two teaspoons of the sea salt and flour and mix everything together with a wooden spoon until the dough starts to hold together.
Turn the mixture out onto a floured counter, and knead for 5 to 10 minutes, until a smooth and elastic dough is formed.
Let the dough rise as described above.
While dough is rising, make fig paste. In a small saucepan, combine the figs, zest, 1/2 cup water, orange juice, 1/8 teaspoon of the sea salt, and a dash of black pepper.
Bring to a simmer over medium heat, then cook about 10 minutes or until the figs are soft, stirring occasionally.
Season with salt and pepper to taste.
Remove saucepan from heat, and let the mixture cool to lukewarm.
Blend fig mixture in a food processor until it resembles a fine paste, and let cool.
Once the dough has risen enough, turn it out onto a floured surface and divide it in half.
Roll one piece of the dough into a wide rectangle.
Spread half of the fig filling evenly over the dough, stopping an inch or so short of the edge.
Roll the dough up around the filling into a long, tight log.
Then gently stretch the log as wide as you can and divide it in half.
Repeat with the remaining dough piece and fig filling, so that you have four long "ropes" when complete.
To weave a round challah, follow these instructions from Smitten Kitchen:
"Arrange two ropes in each direction, perpendicular to each other, like a tight tic-tac-toe board. Weave them so that one side is over, and the other is under, where they meet. So, now you've got an eight-legged woven-headed octopus. Take the four legs that come from underneath the center and move the leg to their right — i.e., jumping it. Take the legs that were on the right and, again, jump each over the leg before, this time to the left. If you have extra length in your ropes, you can repeat these left-right jumps until you run out of rope. Tuck the corners or odd bumps under the dough with the sides of your hands to form a round."
If the braiding instructions are confusing to you, Smitten Kitchen includes photos of the process: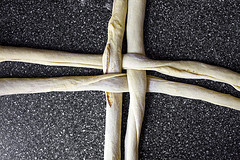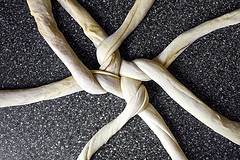 If you'd prefer to make a four-strand standard oblong challah, the Secret of Challah offers this tutorial:
1. Lay the strands side by side and pinch together at the top.
2. Grasp the leftmost strand and pass it to the right, under the two strands adjacent to it, and then back toward the left, over one strand (the one closest to it now).
3. Grasp the rightmost strand and pass it to the left, under the two strands adjacent to it (which have already been braided), and then back to the right, over one strand.
4. Alternately repeat steps 2 and 3.
5. When done braiding, pinch the ends of the strands together.
Whichever method you choose, when done braiding transfer the dough to a parchment-covered baking sheet, or a baker's peel if you'll be using a bread stone.
Beat the remaining egg until smooth and brush over challah.
Let challah rise for another hour.
Preheat your oven to 375°F.
Brush loaf one more time with egg wash and sprinkle with sea salt.
Bake in middle of your oven for 35 to 40 minutes. When done, the center of the loaf should be 195 degrees with an instant-read thermometer.
Cool loaf on a rack.
Enjoy!
This rustic challah calls for a wooden challah board for display. Check out this great Wooden Challah Cutting Board and Basket in One
: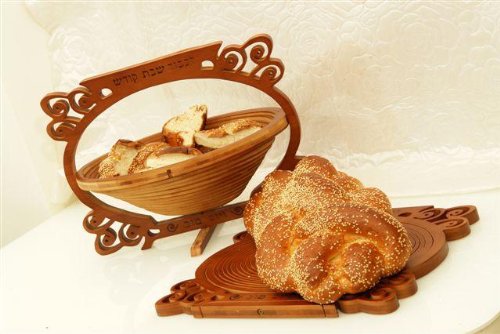 This fantastic and practical challah board easily transforms from a cutting board into a serving basket that holds all of your challah. The wood will compliment your Shabbat table whatever your color scheme. Designed in Israel, this challah board and server makes a beautiful gift. 15.5″ Long x 12″ Wide and 12″ High.
Shabbat Shalom!